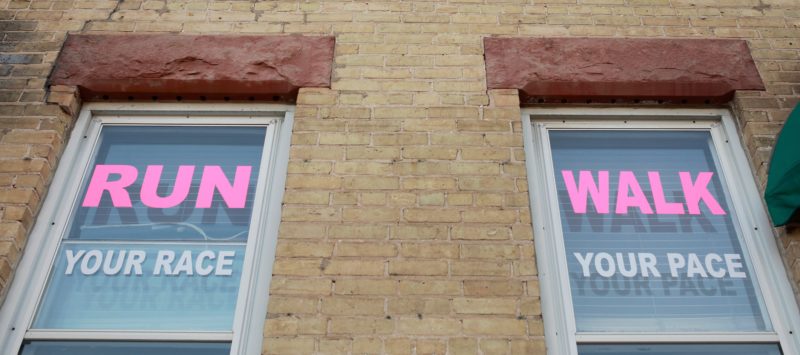 Upcoming Classes with
Running Diva Mom
Ladies Couch to 5K
Starts August 22
Wednesdays at 6:00 pm
Nine weeks
The program starts with one-minute intervals of running/walking for 20 mins! Are you interested in running your first 5K? Join Jamie Adcock, Madison's Running Diva Mom, for this gentle introduction to running. Jamie's program slowly and painlessly prepares your mind and body to run a 5K race in a supportive community environment. You'll start off alternating between walking and running small distances, and slowly build up endurance over the course of nine weeks, so you're ready to run 5 kilometers – or 30 minutes non-stop for the Haunted Hustle 5K on the afternoon of Saturday, October 20. This program also includes injury prevention and stretching tips. Program participants also receive a team shirt to wear on race day and a celebration party from Beans 'N Cream Coffeehouse. Race registration not included and is optional. Stay tuned for additional upcoming classes!
Click on the Sign Up Here button below to be redirected to the City of Sun Prairie Parks & Recreation website.
Ladies 13.1 & 26.2 Training Group
Starts July 1-October 31
Online/Facebook
Need some motivation to stay on track this summer with your fall half or full marathon goals? Whether you just need a plan or want some extra accountability, I would love to help you achieve your running goals over the next several months. You will receive weekly accountability from your running coach and daily accountability from other participants of the group. Each participant will receive her own custom training program based on her race goals, pace and schedule.
Ladies 10K & Half Marathon Running Group
Starts August 4
Saturdays at 7:00 am
Eleven weeks
This running group is designed to take runners from the 5K to the 10K or half marathon in eleven weeks. We will meet together once each week on Saturday mornings. Parks/locations will rotate in Sun Prairie, Deforest and Cottage Grove.
This non-competitive running group is geared towards women of all paces and abilities. Everyone will run/walk at their own pace and an out-and-back route will be planned so that the entire group can stick together. This is a very encouraging and fun atmosphere and is perfect for runners that have run a handful of 5K races.
We will be training for the Haunted Hustle 10K and Half Marathon on Sunday, October 21. This race is optional and is not included in your session registration. Participants may also be interested in training for the Madison Half Marathon, Tyranena Half Marathon or other local events. Stay tuned for additional upcoming classes, too!
Run + Core – Outdoor Fitness
Starts June 28
Thursdays at 6:00 pm (except July 11)
Four weeks
Join other women from the Sun Prairie community for a thirty minute evening run/walk on various trails. Group will complete their workout with a thirty-minute core workout and full body stretching at local parks. Locations will rotate. Please bring a set of light hand weights, a yoga mat/towel and water bottle to class.
Classes are on Thursday evenings at 6:00 pm. The third session will be on a Wednesday.
Thursday, June 28, 6:00-7:15 pm; Thursday, July 5, 6:00-7:15 pm; Wednesday, July 11, 6:00-7:15 pm; Thursday, July 19, 6:00-7:15 pm
Rise & Shine Womens Running Group
Starts July 6
Fridays at 5:15 am
Nine weeks
Start your weekends off right this summer with a group run on Friday mornings. Ladies will rotate various parks and trails in Sun Prairie on Friday mornings from 5:15-6:15 am. Get your workout in before your family rises for the day, before your work day and before your busy weekend of scheduled activities.
Ladies will run/walk 30 mins at various locations, plus a dynamic warm up, cool down and stretching. All paces and abilities welcome. The group starts Friday, July 6 at the Running Diva Mom Studio in Sun Prairie. The class will include nine sessions.
Run/Walk + Yoga
Starts July 26
Thursdays at 6:00 pm
Four weeks
Join Jamie Adcock, Madison's Running Diva Mom, and Katie Flottum, Certified Yoga instructor, for a unique fitness experience on Thursday evenings. Groups will rotate four different parks and trails in Sun Prairie. The class will begin with a thirty-minute run or walk at your own pace on local trails and will end with a thirty-minute yoga and stretching session at the park.
Thursdays, 6:00-7:00 pm; July 26, August 2, 9 and 16
This will be a fun, encouraging and motivating atmosphere and all ages, abilities, and fitness levels are welcome. Absolutely no running or yoga experience is necessary. If you are interested in starting your fitness journey or meeting some new women in the area this summer, then this session will be perfect for you. Please bring a yoga mat/towel, water bottle and watch. A full class schedule with park locations will be provided to participants mid-July.
Moms on the Move
Starts June 26
Tuesdays at 9:00 am
Five weeks
Moms on the move is a stroller-based fitness program designed for moms with little ones. Each one-hour total body workout incorporates running, walking, power walking, core work and overall body toning with your little one in their stroller or alongside you. This outdoor fitness class offers a variety of fun class formats with a 30-minute run/walk and 30 min strength and core program featuring kid-friendly music. Form lasting friendships with other moms and little ones – while working out outdoors!  We will rotate various parks and trails in Sun Prairie. Please bring a stroller, yoga mat/towel, water bottle and a set of light weights to class. Limited light hand weights will be provided. Limited free childcare will also be available at each park for older siblings. Inquire for availability.
Women Working on Wellness
Starts July 9-30
Online/Facebook
Three weeks
Women Working on Wellness is a monthly fitness & weightloss accountability group. Participants are held accountable via daily Facebook group check-ins and weekly private text messages and weigh-ins. Run, walk and run/walk training options available!
Participants will receive:
– Three week calendar with an introductory running or walking program and wellness challenges to be completed on your own
– Personalized daily step goals
– Weekly private individual weigh-ins virtually with your coach
– Gain additional accountability by sharing your daily step count and food log with the group (optional)
– Daily group fitness check-ins, weightloss & nutrition tips and motivation from your coach
– Private Facebook group for motivation from other participants and your coach
Participant with the highest percentage of weightloss will receive a FREE ENTRY into the next monthly online accountability group.
Running Diva Mom is a Certified Personal Running & Fitness Coach in Sun Prairie, WI. I offer several different running programs as well as being an ACE Certified Personal Trainer. I have run dozens of full and half marathons and have coached close to 1000 women doing their first 5k, 10k, half and full marathon events.