See these cute pink, ruffled sweat pants here??!!  Baby Diva has named these her "hiking pants". Every time I announce that we are going on an adventure, she digs into the bottom drawer of her dresser to grab these pink hiking pants. They are already getting quite worn and stained -- I just love it!  Hopefully the weather is turning around soon, and we are going to have to find some "hiking shorts" for her.  One can hope!
We were on the look out for a pair of "hiking shoes" that will motivate her even more to head out the door for our family hikes on the Wisconsin State Park trails. I was going to invest in a pricier pair, until I found this adorable, affordable pair at Target. They reminded both of us of mermaids and are iridescent. She is currently in a size 10 or 11 shoe. But we had to size-down into a size 9. I brought a size 12 home initially, thinking that she would be able to size-up a little and wear them for the entire summer. But they were way too big. Which caused major melt-down in our mudroom, by the way! Sigh. I was so happy that we were able to go back to Target to return them for a size that fit her currently.
We've been wearing them on a ton of our outdoor adventures. They are standing up well and wash up easily with a damp wash cloth. They are great, because they keep her feet and toes covered and offer a ton of stability. Much better than flip flops, right?! And they breathe better than her other tennis shoes.
They also had a rainbow option in store and a few different color options online. At a steal at only $17.99, I didn't mind investing in these functional shoes, which are going to get tons of use and (hopefully!) get really dirty this summer.
Toddler Girls' Rory Fisherman Shoes - Cat & Jack™ are available in mint green (shown), as well as blush pink, lilac and navy (rainbow) in sizes 5-12.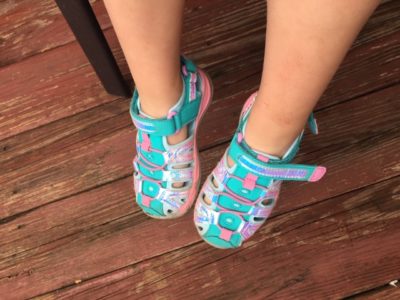 [ This article contains affiliate links and I do receive a small commission for items purchased. Opinions, advice, reviews and suggestions are all of my honest opinions. ]