After a busy day trip of sightseeing and hiking in the Smoky Mountains over Thanksgiving, the rain started just as the forecast predicted at sunset. We found a parking spot in downtown Gatlinburg and rushed to dinner at Mellow Mushroom, which was on our bucket list for this trip. The pizza was ah-mazing!
After filling our bellies and recharging, we walked through the rain down the main drag to the Ripley's Aquarium of the Smokies for an indoor adventure.  Located at a busy intersection in Gatlinburg, the large aquarium was surrounded by Christmas lights, walkways and a beautifully lit Christmas tree. It was magical. We were looking forward to wandering around inside and getting out of the rain. When we entered through the main doors, I knew that this was going to be the perfect activity for a dark, cold and wet evening. Our three year old was excited, too.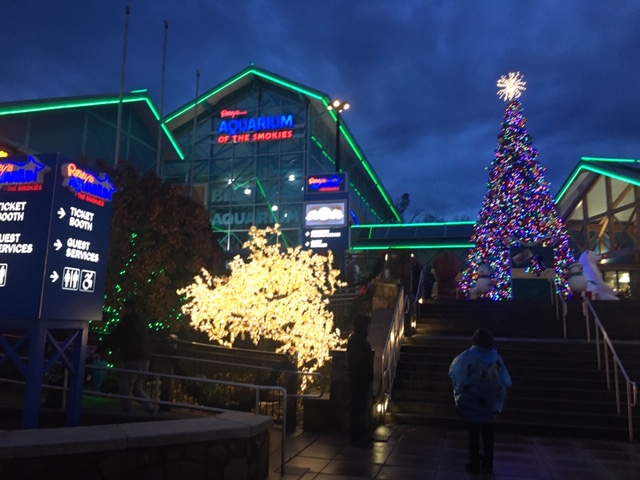 We spent most of our time at the three story play area. Our toddler went up and down through the slides and climbing structures. After a long day of driving and hiking in the mountains, I thought that she was already exhausted -- but this outing was going to really make her sleep well back at our cabin. She enjoyed a little bit of freedom while she did her own exploring in the play structure.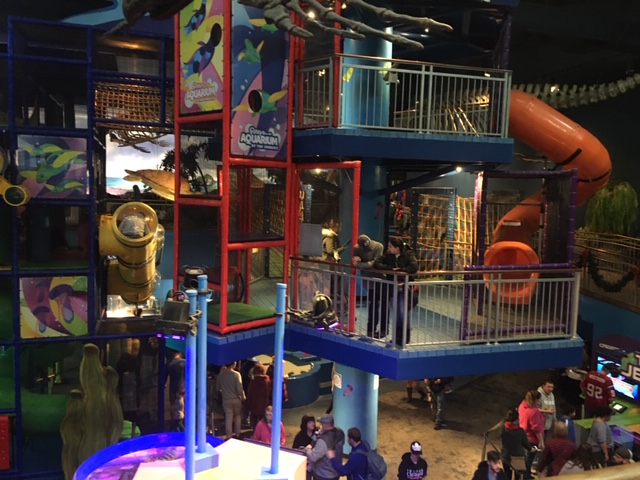 We enjoyed walking through the various exhibits and saw jellyfish, various types of sharks, colorful fish, seahorses, sting rays and penguins. The exhibits were well layed-out across an upper and lower level. Our family spent about two hours exploring both levels. There were even opportunities to touch various animals, but our toddler decided that she was too fearful to do so.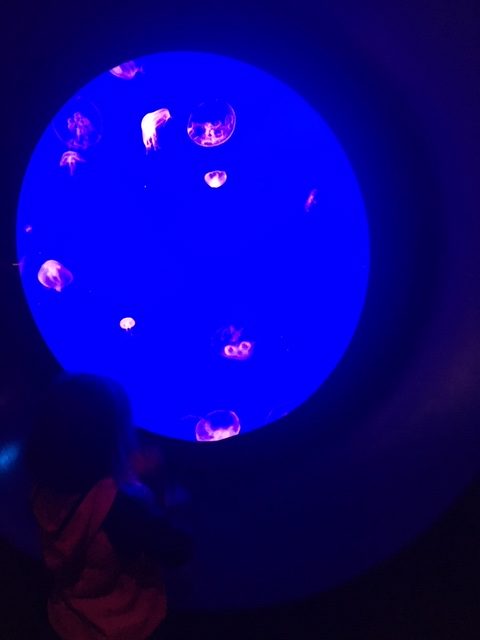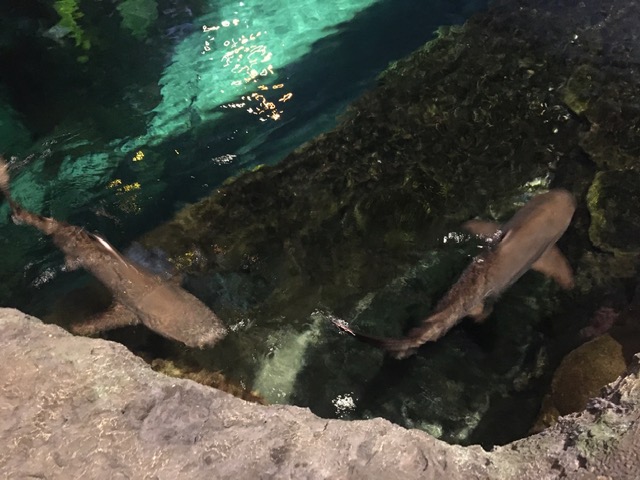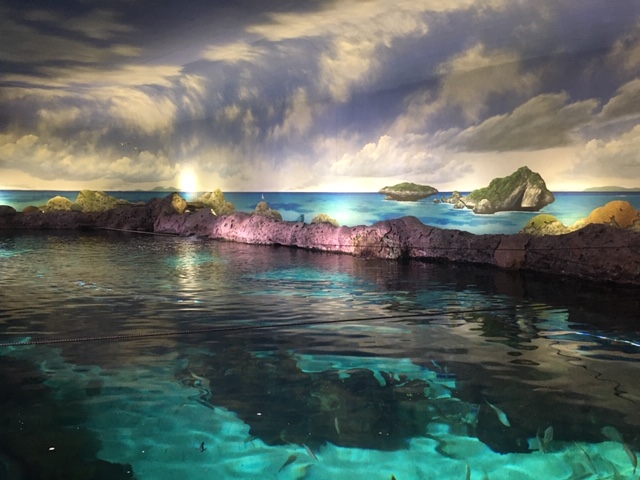 We didn't take advantage of the glass bottom boat, but it looked like a lot of fun. We saw the fully-loaded boat driving around the lagoon while we were wandering around and we also saw it from underneath, while the passengers waved at us through its glass bottom, while we explored through the tunnel of the aquarium underneath Shark Lagoon.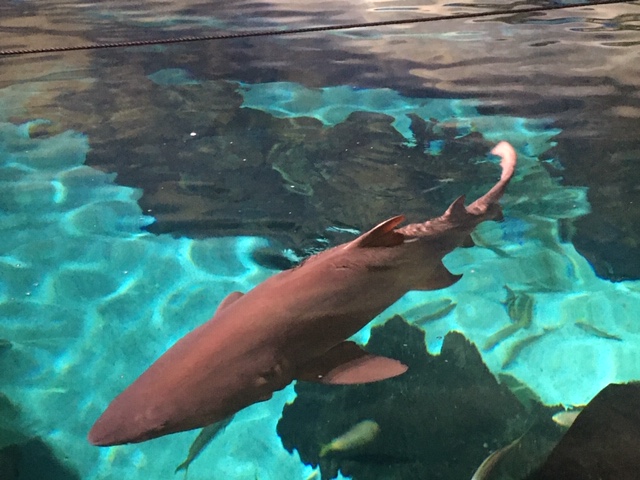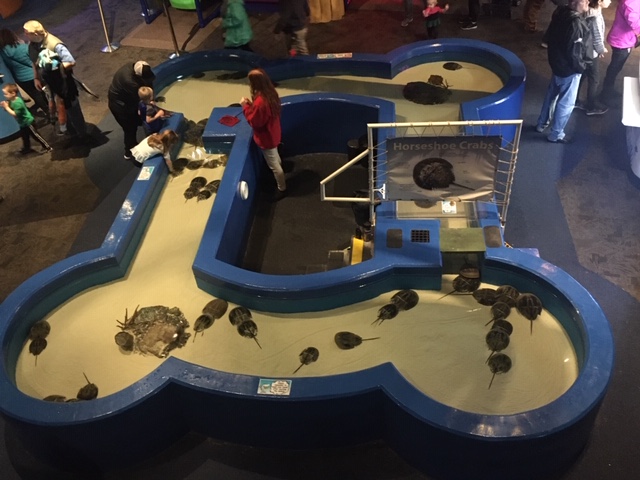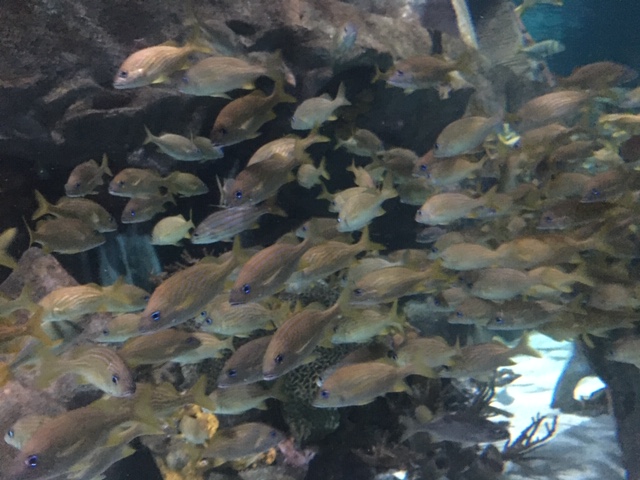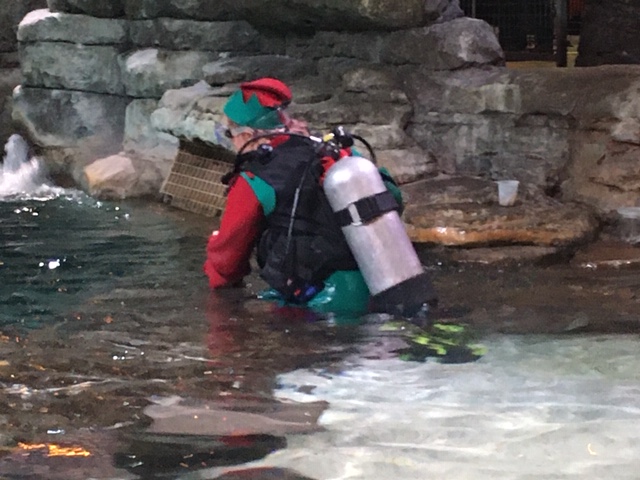 We even saw Santa and some if his helpers, swimming with the fish throughout the aquarium.  It was so much fun to visit the Aquarium and this city at this time of year. There were a lot of unique, seasonal touches everywhere.
Our toddler enjoyed all of the fun, interactive exhibits where she could play around with video, enjoy sensory activities, learning opportunities about the ocean and its creatures, push buttons and levers, unique settings for photos, and there were lots of play and crawl spaces scattered throughout the various exhibits at the aquarium.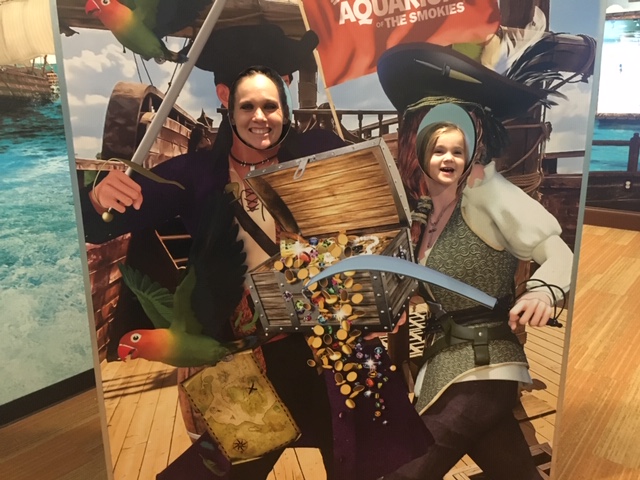 After the climbing structure and play area, I think that her favorite section of the aquarium was the penguin exhibit. She was actually able to get up close and personal with the birds through the glass tube and tunnel at the Penguin Playhouse. She stood there forever in awe, while making "new friends". There were penguin exhibits both indoors and outdoors. She even went home with a penguin stuffed animal as one of her souvenirs because the experience really struck a chord with her.
You can save the time standing in line with your toddler and purchase your tickets for Ripley's Aquarium of the Smokies right from your phone or computer. Families should also consider taking advantage of the experience add-ons or attraction combos if you are looking to do more family outings in Gatlinburg. These offers included other local Ripley's attractions, mini-golf, among other attractions that may interest your family. I'm so glad that we were able to enjoy the Ripley's Aquarium of the Smokies on our first trip to the area.