We first visited and reviewed Dollywood in November 2019 - over Thanksgiving. I was told after our visit that it was one of the (if not THE) busiest day of the year. This was prior to the pandemic and it was really busy, but I didn't think it was terrible. We only brought our toddler on that Thanksgiving visit. When we wanted to return to the Smokies this spring, the main purpose was to share the experience with our older children - including Dollywood.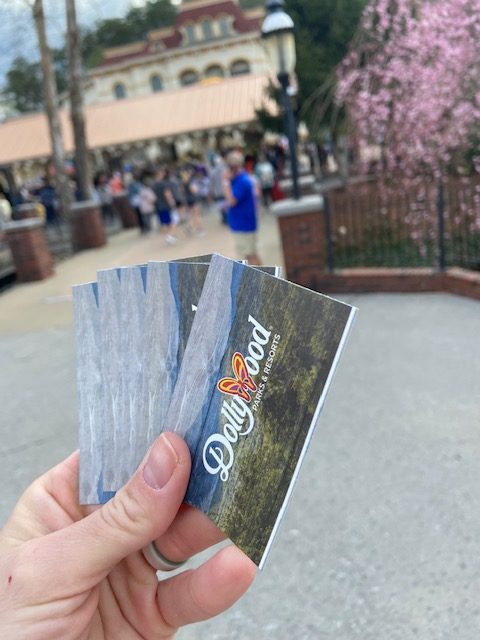 Instead of taking the tram to the front entrance, we walked it. I told the kids it would be a good warm-up for getting all the steps in for the day. I could also tell by the parking lot that it wasn't going to be a terrible day of standing in lines. We got outside the main entrance and had our temperatures taken and were given a wrist band to confirm that we didn't have a fever. I did have a few ride attendants verbally check for it when in line. We also wore masks the whole day, except when we were eating. There were socially distanced spots in the lines and we had to use hand sanitizer each time we entered a ride.
There weren't any new attractions since our last visit. But since it was just the three of us last time, we spent a lot of time in the area for younger children and families, The Country Grove and the new Wildwood Grove. This time, were going to be able to enjoy the roller coasters. And man ... there are PLENTY of them. The kids (ages 13 yrs and 17 yrs) were pretty amazed and thrilled by the variety of thrill rides and coasters, scattered all throughout the park.
The lines on the apps said that there were 10-70 minute waits most of the day. We found that most of the lines were estimated too high - sometimes half of that. However there were a few times that we would rush to a line because it was low, and then we had to wait twice as long because they were doing their hourly cleaning and disinfecting of the ride. After the cleaning, the ride would run a couple of times while empty. The lines were nothing compared to when we visited at Thanksgiving. Park capacity was also capped during the pandemic, when we visited over Spring Break and the park was only open every other day during their re-opening of the 2021 season.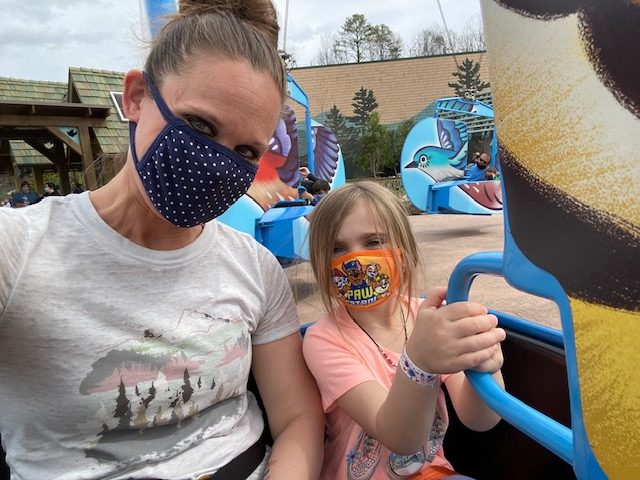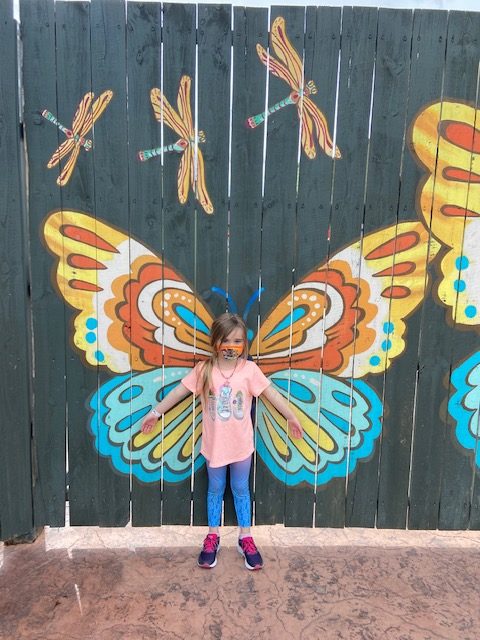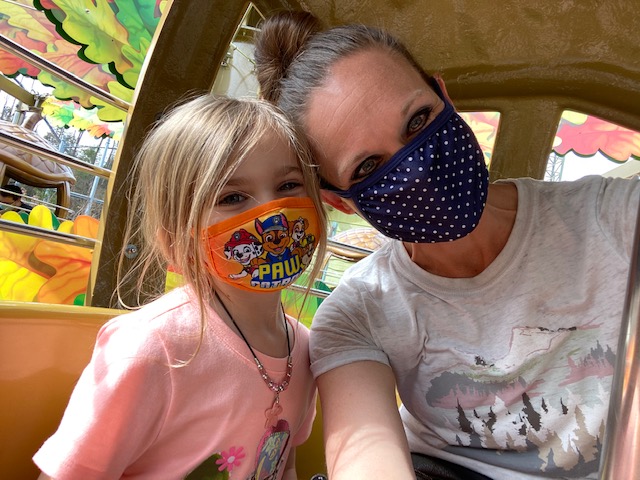 Due to the various ages that we were traveling with, we split up for most of the day and met up for lunch and at a couple other points during the day. We enjoyed lunch outdoors at Till & Harvest Food Hall in Wildwood Grove. We mostly ordered burritos, similar to Qdoba and Chipolte.  They were pretty good and fresh, but also a bit pricey for "fast food". We choose to eat a quick bite to eat instead of a sit-down restaurant, because we didn't want to waste time eating lunch. The family also treated ourselves to some food cart snacks and the famous Cinnamon Bread that we didn't get a chance to try last time (there was a 45 minute line over Thanksgiving.). It was scrumptious and ooey-gooey wonderful! The little one enjoyed every last morsel at the end of our full day. We finished two loaves!
There weren't too many rides that all five of us could ride together. But the one that we did ride together ended up being a favorite for many of us - maybe for that reason. We loved the log ride, Daredevil Falls. And it was a hot sunny day, too boot!
A lot of the toddler, high-touch and play areas were closed on this visit. But there was still plenty for our five year old to enjoy. I still liked riding Rockin Roadway with her. Actually, she got to ride with her big sister this time. And mom rode all by herself. Don't laugh! While the guys finished up more roller coasters, my girls and I played around in the Country Grove area on little kid rides. The rides were perfect for her when she was 3 yrs old. At 5 yrs old, she was a little big for many of them, but still had fun.
Last time we didn't bring our jogging stroller in. After the long day, our then three-year-old was exhausted and fell asleep. We carried her around and back through the parking lot for the last hour or so. This time, hubby rented a stroller for a minimum fee and it worked out great. She could hop in and rest while we rushed across the park to the next attraction. We also didn't have to lug our stroller in the van for 12 hrs on this trip then either. We already had a full vehicle with all of our stuff!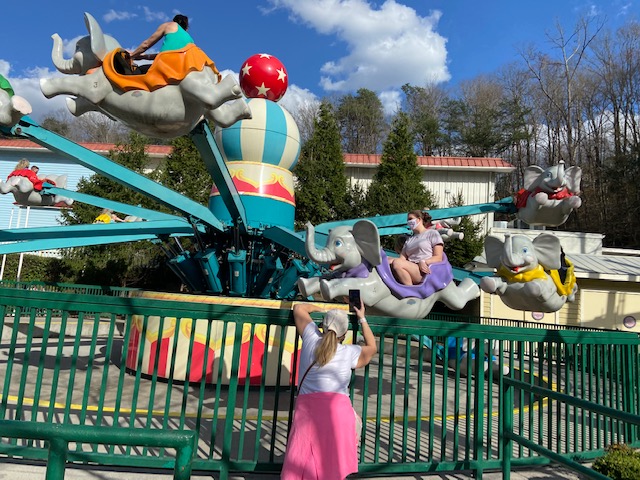 We still didn't get to ride the Dollywood Express. Another mother was joking with me in a waiting line that she was the only one her family that was adamant that they ride the train, but her whole family was like mine, more interested in making time for the thrill rides and roller coasters. Well mama, I didn't get my wish either. We just didn't have enough time to do everything that we wanted - again. Bummer. But, we sure did max-out our day. The park opened at 10am and closed at 6pm. We got to the park around 9:30 for parking and chose to walk to the main entrance from the car. When the park closed at 6pm, the girls and I were waiting for the guys, who were enjoying the short lines for the roller coasters. They rode 4-5 rides during our last hour in the park! As we exited out of the souvenir shop with our purchases, it was already 6:45 - 45 minutes after the park closed. We got very close to doing it ALL!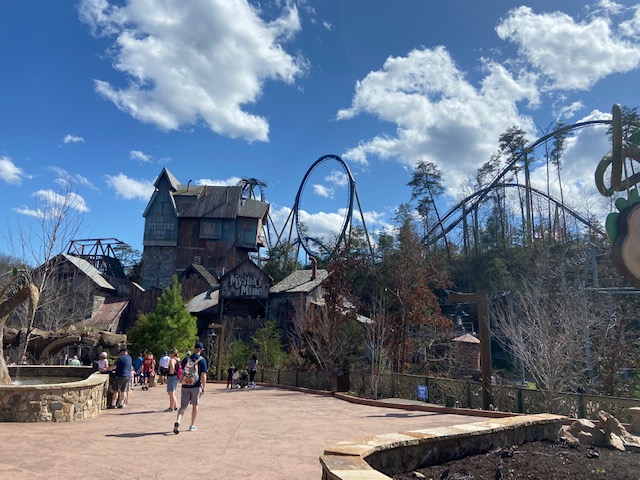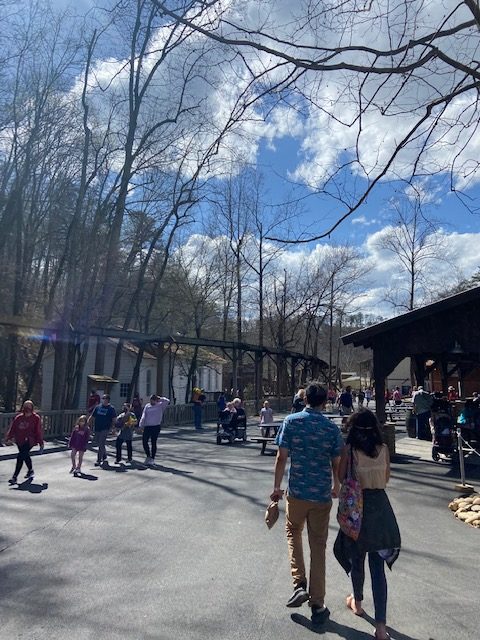 We were at the park the entire day and the weather was sunny and unseasonably warm - approached 80 degrees in the afternoon. When we visited over Thanksgiving, it was obviously a lot cooler. But I missed all of the holiday lights lit up throughout the park like at Thanksgiving and Christmastime. It was absolutely beautiful during the evening we visited. I guess we have now have been able to share in all aspects of Dollywood's fun, magic and beauty.
I still LOVE Dollywood and all that it has to offer for the whole family. At this point in our lives, it was a bummer to have to split up most of the day. But, it worked out fine. We all got a variety of rides in and got short "dates" with each of the kids. It is magical, just like Walt Disney World. And our big kids loved the thrill and speed and uniqueness of the Dollywood rides and coasters. They also loved not having to wait in line all day. We will definitely return for more adventures - again.
[Disclaimer: Our family participated as part of the Dollywood media program and received free admission to the park. All opinions are my own.]