After the thirteen hour drive down from Wisconsin to Tennessesse over Thansigiving, my body was craving a run. I didn't get out for a run every day, but did a couple of times during our first road trip to the Smoky Mountains. Our cabin was situated on pin-turn roads, mountainside, so I wasn't going to be doing any runs directly from our cabin. Nor, did I want to run right down the main drag in Pigeon Forge (how boring is that?!). So I asked locals that we knew what would be a nice and safe route for me to navigate on my own in the mornings. They gave me some great tips on running near the Island of Pigeon Forge, a unique shopping center hub that features a large Ferris wheel and unique shopping and dining experiences.
I parked in the large, surface parking lot between the LeConte Center and the Island of Pigeon Forge. This was an easy five minute drive from our cabin in the mornings with no traffic. There was easy step access to a nice, paved path. This is the path that the locals told me would be safe. And I actually did feel quite safe and visible during all of my runs.
It was the end of November and cool - usually around upper 40's in the morning. I wore long sleeves and crop running tights. I saw several others with added layers, stocking caps and gloves. But that was way too warm for this Wisconsin runner.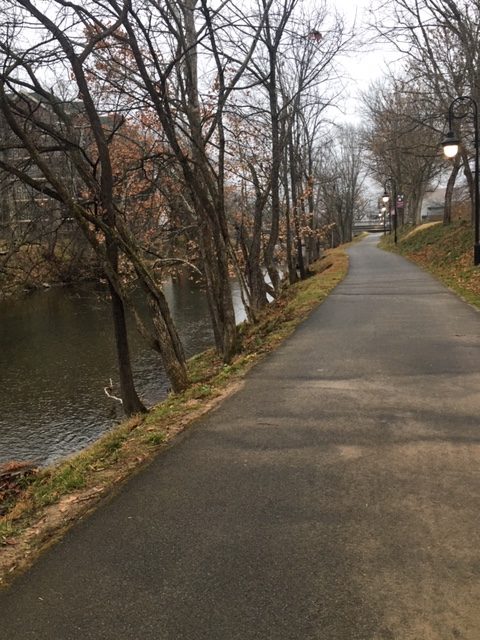 The path near the Island of Pigeon Forge ran along the Little Pigeon River, which was parallel and just a block away from the main drag lined with t-shirt shops, mini-golf and wacky roadside attractions. The river was rushing swiftly at times and it was definitely refreshing to be running solo without my headphones and listening to the water.
I had to cross through a neighborhood and some semi-busy streets at times. But I always felt comfortable running through this area. There were a lot of wild birds in the water and the area was scattered with benches, street lights (which were still on around 7-8am) and various Christmas lights and decorations throughout town.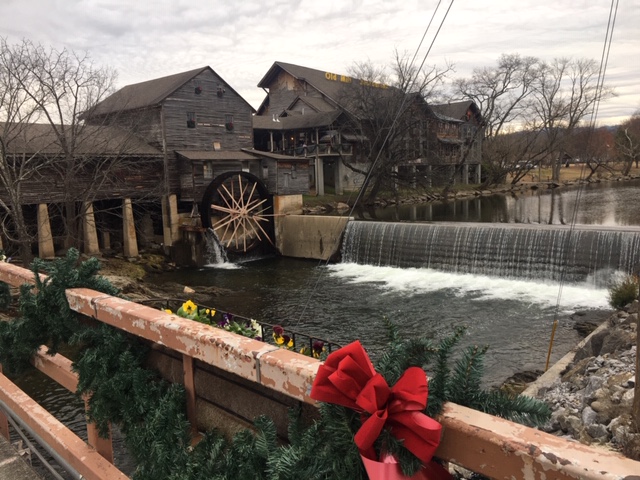 One day I headed towards Gatlinburg on the path and could see the mountains (which were indeed smoky in the mornings!) off in the distance. I was able to get two miles out and two miles back in this direction. I probably could have ventured further, but it seemed that the path comfortably ended right at the two mile mark.
I ended up running past the Old Mill Restaurant, where we thought we were going to have Thanksgiving brunch, but didn't. It was fun to run past it with it's waterfall and unique buildings and structures.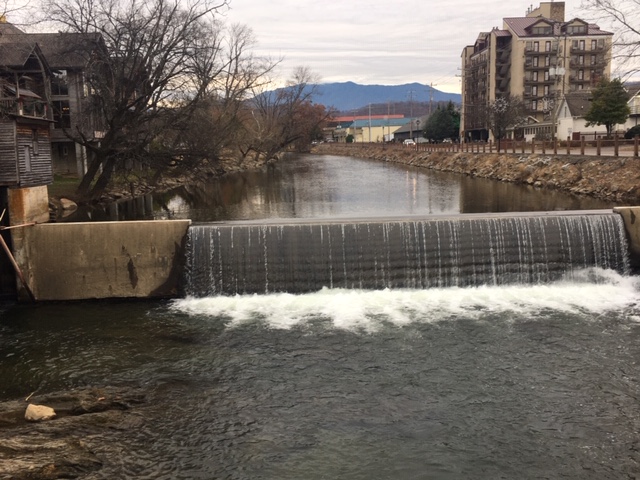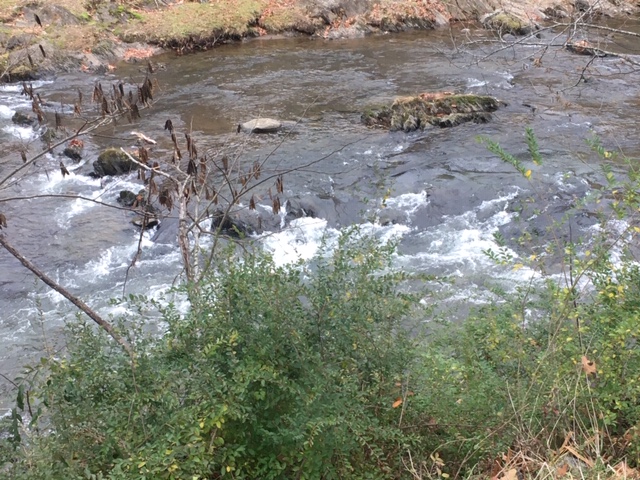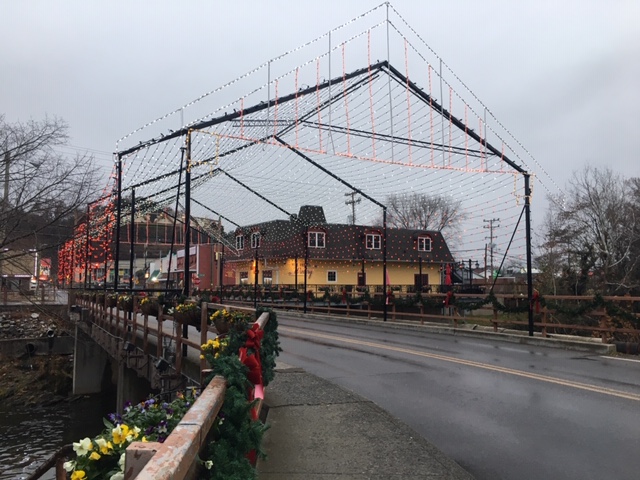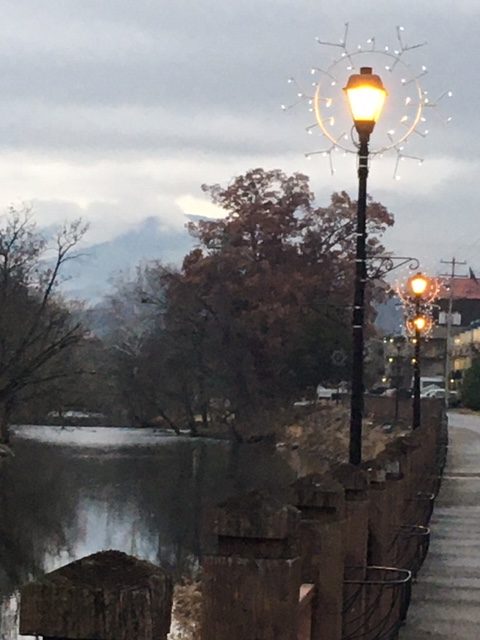 On another day I repeated some of my first loop, but opted to run additional mileage in the opposite direction, just past the Island of Pigeon Forge. I enjoyed running a few random circles around the retail area, and stop for some pictures near the rides and Christmas decorations. I then ran around a parking lot behind Paula Deen's restaurant and picked the running path up behind it.
I saw some of the same runners and walkers out each morning and also several times on my out and back routes. It's always fun to travel somewhere and see others doing exactly what I'm doing - exploring new cities on foot, seeing things differently, getting in movement and making time for themselves before a busy day of "being a tourist" happens.
I was able to take the path in this direction about another two miles out and back. It went under the main road through town and continued along the river, between some popular hotels and headed off into an electrical facility near a trailer park. This is where I started feeling uncomfortable and immediately turned back around toward the Island of Pigeon Forge. I saw others venture in pairs ahead of me. But being by myself and unfamiliar with the area, I made the safe decision to turn around to familiar, visible territory.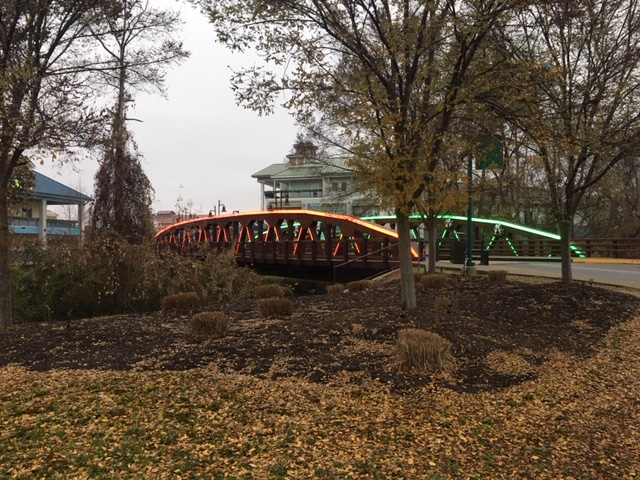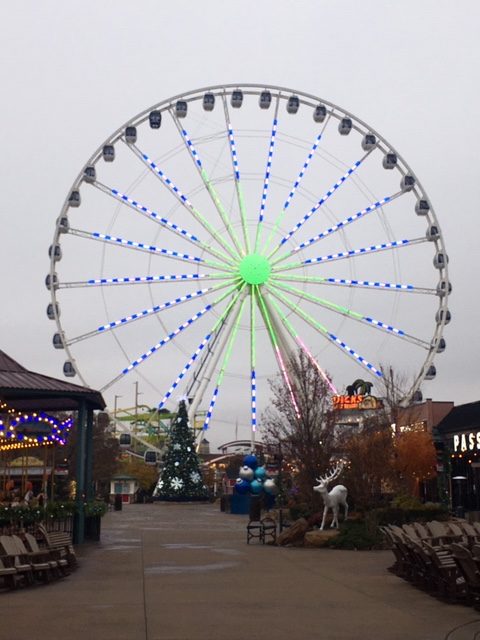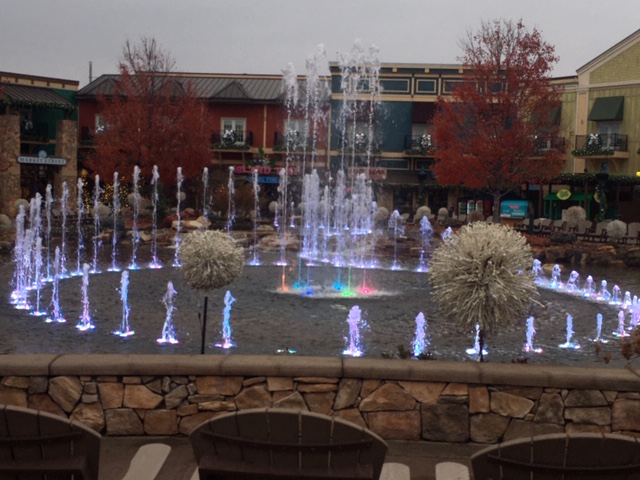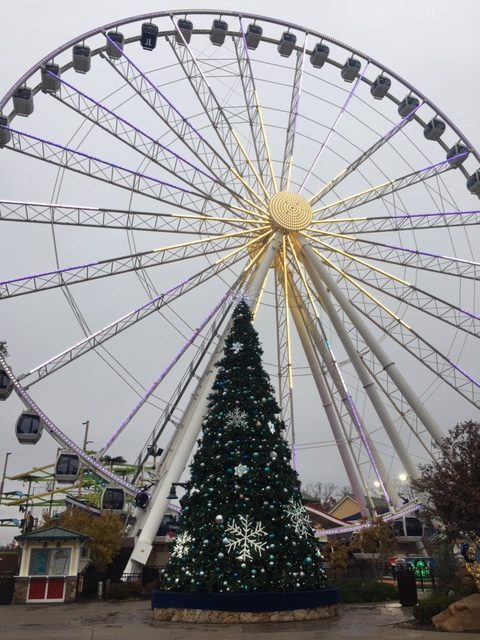 I just love exploring new areas on foot. And I'm so thrilled that I was able to take an hour on these mornings and explore along the Little Pigeon River. It's so much fun to see the city in a different way, get away from the hustle-and-bustle and start my days out with a calm and quiet reflection of our family vacation. We sure made some wonderful memories on our trip to the Smoky Mountains.