Well, these were tasty!  I recently had the opportunity to give Celsius fitness drinks a try. I have tasted many, many brands of sports drinks, fitness drinks and sparkling water over the years. I really enjoyed sparkling grapefruit, peach mango and kiwi guava. I think that watermelon and grape would taste pretty good, too. With eight original flavors, they have several other flavors available online or at your local grocery store. I spotted them at my local Hyvee recently. They are available in non-carbonated flavors and sparkling flavors -- I really enjoyed the sparkling flavors myself. Peach mango was probably my least favorite -- just because both peach and mango aren't typically my go to flavors.
Celsius claims to boost your metabolism and burn more calories and body fat during and after your workout. You can drink it before your workout or after your intense cardio session.
There are no artificial preservatives, flavors, aspartame or high-fructose corn syrup. CELSIUS is a Fitness Drink which has been clinically proven to accelerate metabolism and burn calories & body fat while providing healthy energy. Available in both sparkling and non-carbonated flavors, CELSIUS is an ideal pre-workout drink and also serves as a refreshing alternative to coffee and other caffeinated drinks. CELSIUS is the perfect addition to an active lifestyle and has no artificial preservatives or flavors, no aspartame, or high fructose corn syrup and is very low in sodium. CELSIUS is delicious that delivers, (clinically proven to do so).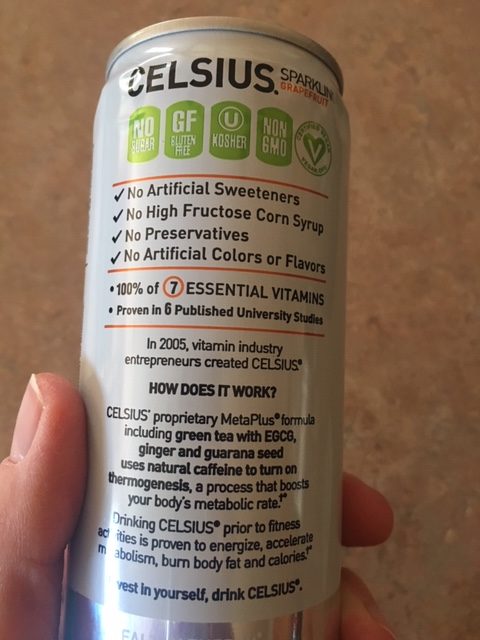 Sometimes I still struggle with wanting a diet soda and these were a nice guilt-free alternative. There is no sugar. They are also gluten-free. I don't know if I got a good boost from the drinks themselves, but those days I didn't reach for a soda or afternoon coffee, post workout. Celsius also sells on-the-go powder sticks to keep in your gym bag, glove compartment or desk drawer.
Celsius also offers a line that is sweetened with Stevia -- which honestly looks really refreshing for the upcoming summer months. Cucumber lime and pineapple coconut sound like great poolside options.