I was personally most thrilled to visit Anakeesta during our second trip to the Smokies. The Gatlinburg theme park is located on the top of a small mountain, overlooking the city. The mini "village" is filled with a mountain coaster, various rope courses and bridges, treehouses, gift shops, food carts and restaurants -- and unbelievable views of the Smokies. They also recently added a lookout tower.
We saved our Anakeesta visit until our last day in Pigeon Forge and Gatlinburg. We ended up driving a bit in the National Park that morning -- to the North Carolina border, so that the kids could say that they had been to another state on this visit.  This meant that we arrived at downtown Gatlinburg about an hour later than we had planned. And the lines were long and frustrating around 11am.
We did not have pre-purchased tickets and many of the folks on their phones were having trouble purchasing tickets electronically. I also had to pick up discounted media passes, so we had to stay in the line. There was one line to purchase tickets and another to take your tickets and wait for the chair lift up to the Anakeesta village. It was a long....long....wait. We waited forever in the first line and then even longer in the second.  Our whole visit to Tennessee was warmer than we expected and I think that Friday was the hottest. The temperature ended up reaching about 80 degrees and was sunny all day. It was gorgeous -- but warm. I just wish that we had more seasonably-appropriate clothing and it may not have been so bad standing there in our long pants and masks. This long, hot wait was our only poor experience at Anakeesta.
Once we got to the chair lift, we realized that most of the wait was because a staffed photographer was taking photos of each group before they rode the chair lift. Right before our turn, she realized that her cards were all out of order and was spending several minutes trying to regroup herself. Since we weren't going to purchase our photos, us and several other frustrated families just skipped the photo opportunity and walked on ahead to board the chair lift. There were a lot of grumpy, warm people at that point.  It was just after 12:00 noon and we were starting to get hot and hungry - perhaps a new version of "hangry". But we still smiled for some of our own photo opps! ....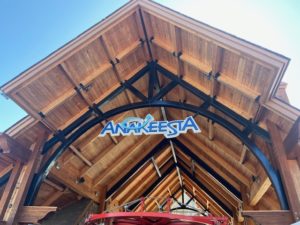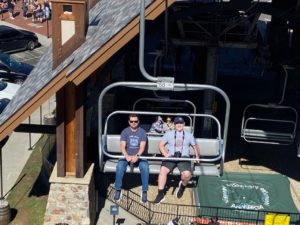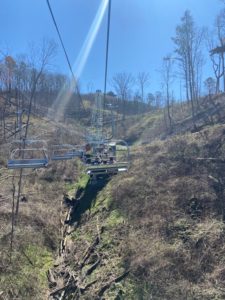 The chairlift set us up the mountainside and it was just what I was expecting from the day. We were slowly gliding up above others participants that purchased additional passes to zipline across the mountainside.
We exited the chairlift and immediately looked for food. Their restaurants were newer and I had looked at the offerings online before we left Madison. We stopped at the Smokehouse, which was an outdoor restaurant and bar - fast food style. They had a number of different offerings. But most of us ordered the glorious nachos with pulled pork. We were so thirsty and snagged drinks (and free refills!) from the bar.
This was THE most beautiful dining experience that I've had. I mean ... that view! I was worried that with the length of that admission line that it would be extremely difficult to find my hungry family a table. But, there were several. There were some in the sun and the shade. So we spread out and enjoyed the view and our food. Even though it was "fast food", the food was delicious and the portions were great enough that we could all share multiple entrees.
After our bellies were full we went on to do some exploring.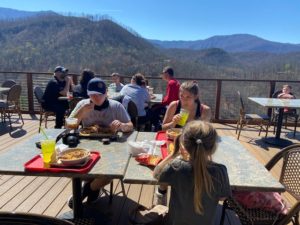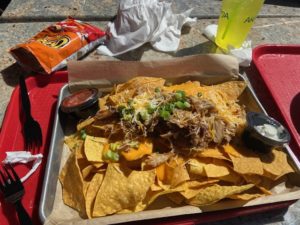 The Rail Runner Mountain Coaster was one of the things that we were most looking forward to experiencing at Anakeesta. Speeds reach up to 25 MPH and it looks intense and like a lot of fun. We were so deflated to find out upon our arrival that it was out of commission for the day -- for "regular maintenance". We were bummed. But I was ready to explore the rest of Anakeesta and make most of the beautiful day that we were blessed with. In addition to the mountain coaster and dual ziplining, gem mining was another activity that you could add on to your admission.
We walked around and explored the gift shops and saw the ice cream shop, the pie shop and the vast mountaintop seating area with a "splash pad" and more amazing views. There was another gift shop and indoor restaurant, Cliff Top,  that we wanted to enjoy for dinner, too.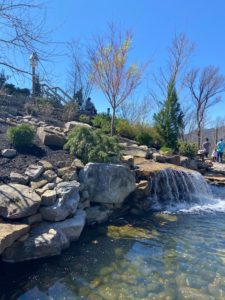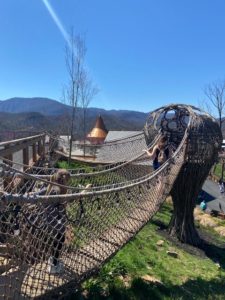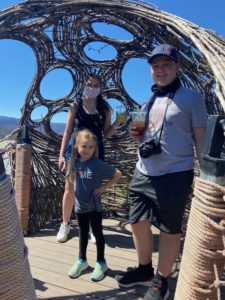 We headed over to the new Anavista Tower. The gardens were beautiful and the tower's view was extraordinary. You could get a glimpse of the whole Anakeesta village and down to Gatlinburg below. We then walked around and explored the much anticipated Treeventure and Treehouse Village. Bigs, the little and both parents enjoyed exploring the suspension bridges, outdoor climbing tunnels, slides, balance beams and other obstacles. Some obstacles were difficult for some of us than others! (Man, does it stink getting old!) It was exactly what I thought it would be. You could easily spend a couple of hours as a family playing and replaying dining and snacking.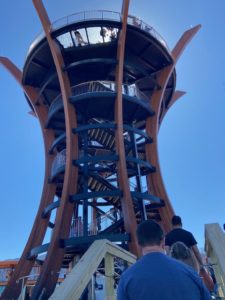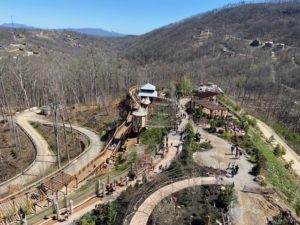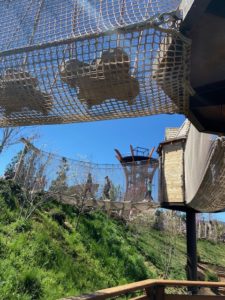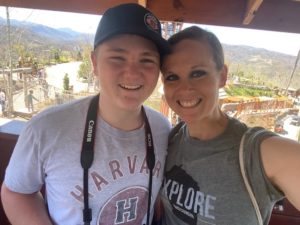 I was most excited to walk the Treetop Skywalk. We explored the hanging bridges and tree towers that were suspended approximately fifty feet in the air. It was lovely and my favorite part of the Anakeesta experience. It was pretty fun and my family was getting more movement in - so I was happy.
The bridges would be lit up later in the evening. And this definitely made me want to return after dinner. Since we had wristbands, we could come and go as we pleased. We originally had thought we would do just that. But after our long adventure to get up the mountain in the morning, we weren't so sure what the lines would be like in the evening.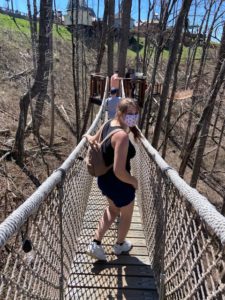 But we headed back down via chairlift to Gatlinburg mid-afternoon and visited some shops and walked to the Gatlinburg hiking trail, just at the edge of the National Park to cool off by the stream. We were so hot that we needed to find some shade and get out of the crowds, too. After the long walk across town, we finally sat down and cooled off. Once we got a picture (finally!) with the National Park sign, we made the trek back across town to the Anakeesta chairlift. The line was only 5-10 minutes long around dinner time. On our ride up, several riders in the reverse direction were pointing and yelling, "bear!". We looked down and captured a little guy playing around in the dumpster right beneath our feet. Between that experience, the much-anticipated national park sign picture and our full day at Anakeesta I was feeling like our day and adventure would be complete. But I was wrong. The evening ahead ended up being quite magical and a great ending to our visit to the Smokies.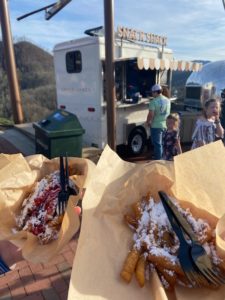 We ended up making a quick reservation at the indoor Cliff Top restaurant that had more amazing views and beautiful seating. We waited and enjoyed comfortable seating cliffside and had some funnel cake fries from the snack shack food cart. We considered them our appetizer, while the little one played around in the "splash pad" area. It was relaxing just sitting there and watching the beautiful sunset over the mountains. It was just what I was envisioning with our return to the area for the evening.
After a 45 minute wait, we were seated and unfortunately were one of only a few tables not seated in the great room with amazing views. But we could still see the views from afar and enjoyed some more great food at this sit down restaurant.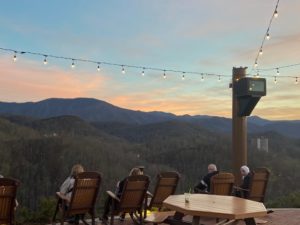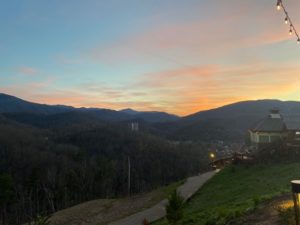 After dinner, we revisted the suspension bridges and heard that there was a bear that continued to be spotted under them that evening. We thought that it might be our little friend from earlier. The bridges were magical in the evening, as the sun continued to set. I was so happy that we ended our trip this way. It was totally worth that trek back across town. We all admitted that.
On the chair lift ride back down, my husband and I sat with the littlest, while the older two children rode down the mountainside in front of it. My heart was full watching the city lit up beneath us, as we took in the mountains one final time and listened to the older kids giggle and banter in front of us.
This spring break trip to the Smokies was perfect and memorable in every way. Thank you Anakeesta, for providing the perfect ending.
[DISCLAIMER: My family received partially paid admission to this attraction. All opinions are honest and my own.]