Back around the holidays, I was trying to think about what I wanted to do for my fortieth birthday in July. I didn't want to have a big party or fancy dinner or vacation. I knew that I wanted to be outdoors and moving. I decided that on my birthday, that I just wanted to have a relaxing family day at a local state park, with some treats and hiking sprinkled in. But I decided that the day before my birthday, that I would attempt to run forty miles.  And I decided that I wanted to raise funds for a non-profit organization. I decided on collecting donations for the local Girls on the Run chapter, which has always been so close to my heart. As someone who has struggled with my weight and my confidence my entire life, I really have always been drawn to this organization that empowers young women from a very young age - through both running and it's amazing curriculum.
I hit the gym hard over the winter. The past couple of years, I have been comfortable with "training for life" and not having too many races on my calendar. I got many long runs in on the treadmill over the winter. After the pandemic hit in March, I still kept my running close to my heart - maybe even more. It was a constant in my daily routine that I could control. Between March and May, I logged over 1,000 miles of running and walking. After my first ultramarathon was cancelled ate the end of May, I ended up completing those 31 miles (50K) solo and unsupported throughout Sun Prairie.
In June, I began my fundraising activities for Girls on the Run. And tried to get some more of my own long runs in and kept my volume up, as I reopened my fitness studio during the first week of June. With my coaching and personal training schedule, it can get a bit tricky to get my own workouts in. But I tried to stay focused.
The weather had been hot in June and July. But the weather for Saturday's event looked pretty good. I organized 1, 3 and 4 mile loops throughout the morning. Clients, friends and family registered to meet me at the park after each loop and run, walk or bike with me. It worked out great. Sometimes I would have several people joining me. And I would have the option to refuel on water, fuel, use the restroom and change after each 1, 3 and 4 mile loop. I was slated to complete five of these eight mile "loops".
We made pasta and bread the night before and had a relaxing evening. I tried to get to bed early, as I always do. But I just couldn't sleep. I tossed and turned all night and my nerves got the best of me, with stomach issues. At 1:30, I finally went down on the couch and slept for an hour. At 2:30, I woke up and layed there until I turned the coffee pot on an hour later. I enjoyed a cup of coffee and could only down one piece of toast with peanut butter and a greek yogurt. I was having trouble chewing.
My son wanted to run the first mile with me, so he rose at 4:00. The girls would join us later.
We got to the park and the sun was rising over the neighborhood. There was a stillness and a coolness in the air. My son and I walked to the road and I hit start on my watch, promptly at 5am. I was anticipating a 10:00 (ish) min/mile pace throughout the day. We made our way around the one mile loop around the pond and back to the park.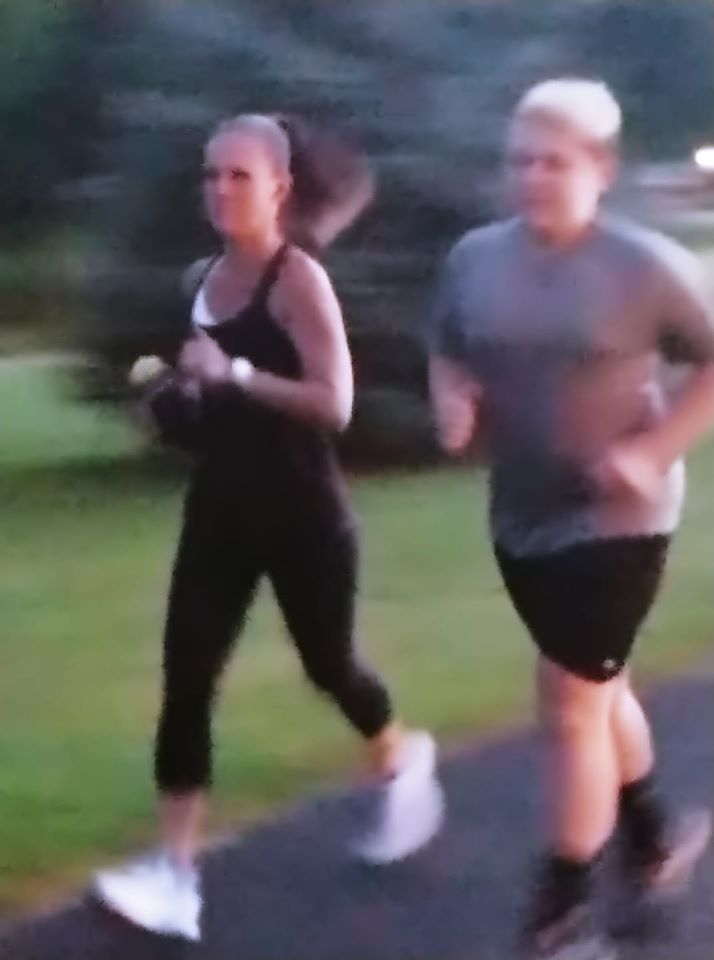 I was greeted by an old friend, who I had met on a race course about ten years ago. He drove down several hours to stay with family and keep me company throughout the morning. He ended up joining for many more miles than planned. I was then greeted at the corner by three clients and friends. We each ran our own pace on the Patrick Marsh three mile loop, which was hilly, but my favorite. We watched the sun rise over the marsh and headed back to the park.
I was then greeted by a client on her bike, I wasn't too talkative during the four mile high school loop. But we still had good, distracting conversation.
I then ran a mile with my husband and then more friends on the the next several miles. I had friends join on foot and on bike. Sometimes, I would tell people that I was talking too much and needed to get in a rhythm. I would then turn on my tunes and become quiet and focused.
At mile 17, I was joined for one mile with Christine who is the director of our local Girls on the Run Chapter. We had never met, and chatted and that mile went very quickly. She then joined me and others for the next three scenic miles. That concluded my first twenty miles. I finished faster than planned, around 3:17.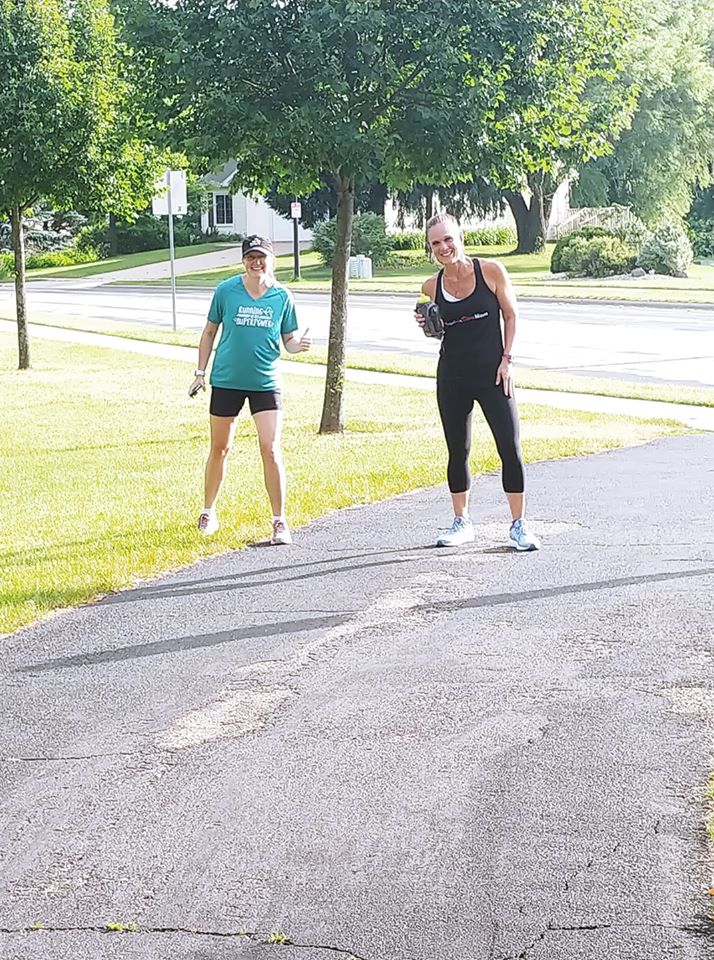 I had noticed a few clients/friends out on the path and wasn't sure if it was them until I had approached them. It was, because they had met back up at my half-way break back at the park. I changed my clothes quick, ate some more greek yogurt and a few Fritos and refueled on water. I was tired but feeling pretty good. I also switched watches, since the battery wasn't going to last for the second half. A thoughtful client let me borrow hers. Turns out her watch is set on a different mode on mine, so I had no clue how long I had been running, other than each lap for each mile. It turned out that was good for me just to let the pace go during the second half.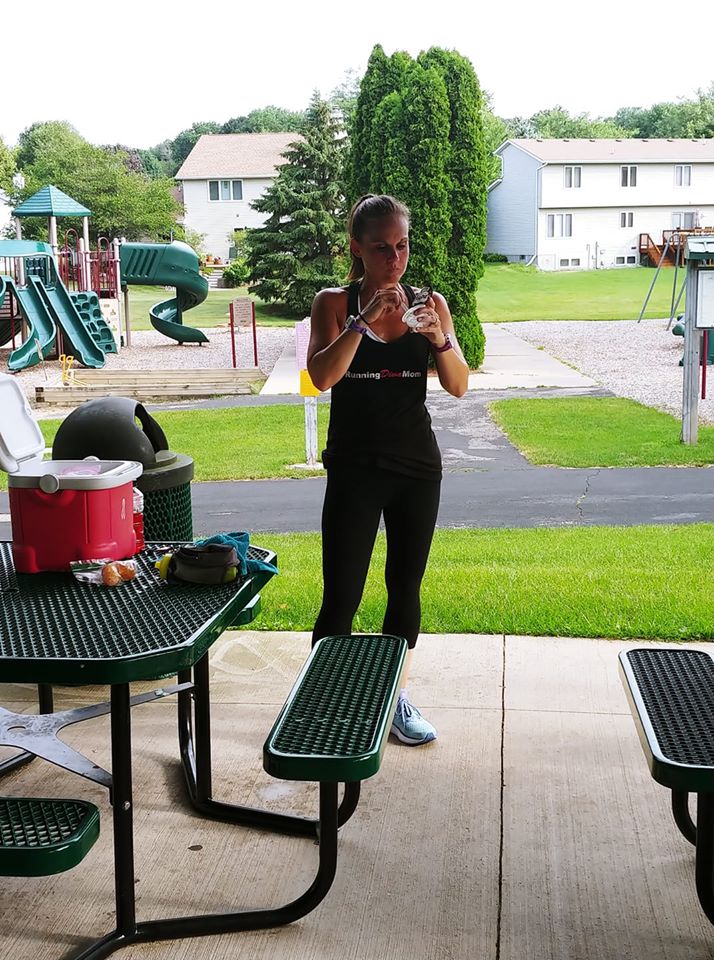 I then headed out for the four mile loop with a friend on bike and her husband on foot. I wasn't feeling as good heading out, as this wasn't my favorite loop and the break made my legs feel heavy. I told them that I couldn't talk and I just focused on the out and back route. Those four miles were tricky. I met another client at the park for another mile loop and then our friend ran more with me out to Patrick Marsh. We hit the marathon point at 26.2 -- and I felt like I had run a marathon. I was ready to be done, but still had a half marathon to go. At mile 27 I finally told him that I had to take a breather, and we walked a minute or so until I ran again and finished out at the park.
When returned, I saw my parents and my son on their bike. I told them that I was in "moving forward mode" and that's what I was doing. They were trying to motivate me, but could tell that I didn't want to talk as I headed back out at mile 28 to my least favorite route. I walked a bit, ran a lot, walked a bit, repeat on the out and back route. My dad told me to listen to my body and do what it was telling me to do. That's what I did. The morning had been beautiful but now the temperature dropped and the skies got really dark. It was supposed to storm in the afternoon, but obviously that had been shifted a bit. I told him "I'm not going to beat that, am I?!". He said just to focus on doing what I'm doing. I'm told that it rained a lot south of us, but it never did rain in Sun Prairie. At mile 30, I walked and then told my dad that for safety purposes, that I would like to consider doing the last eight miles within the park with the one mile loops.
That turned out to be the best decision of the day. The sun ended up coming out, and it got warmer than before. I had my little pink cooler at the road, where I would be starting and finishing each loop. Each loop I would pick up more family and friends, drink more, eat more and walk a bit solo to the corner and back. That seemed to help. A lot.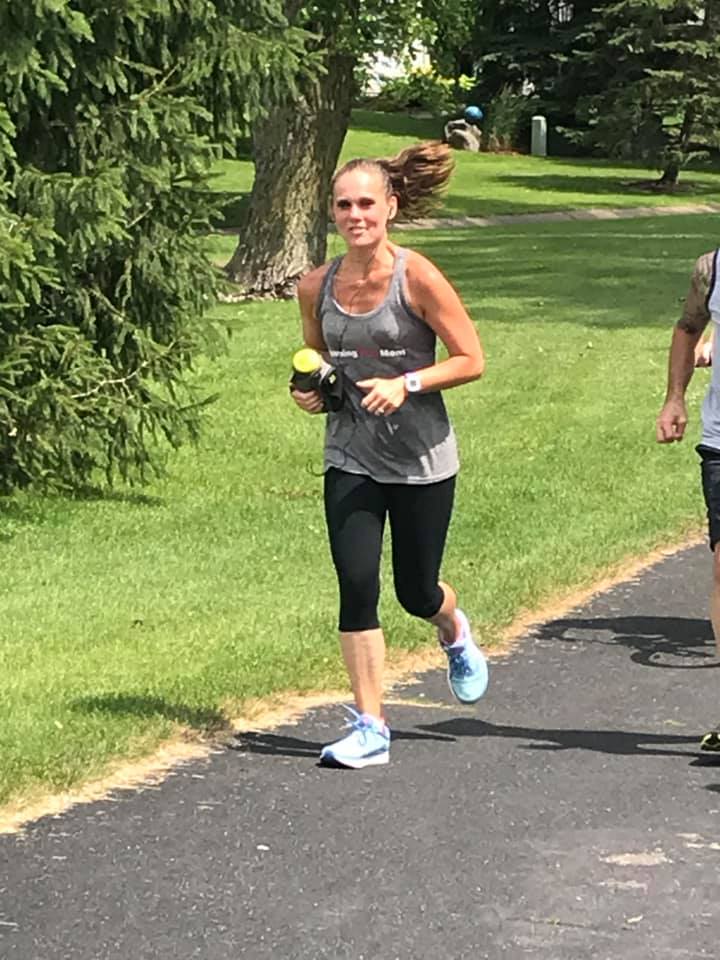 I was joined my my aunt and cousin for several loops, some friends and clients. My family also joined on and off those eight miles on their bikes. With each mile that ticked by - slowly, more and more clients and friends showed up at the park. I was amazed as the crowd grew and cow bells and cheering escalated each time I returned back to the park. It was absolutely amazing. These eight loops were not what I had originally planned - they were equally awful and amazing at the same time. I was in a lot of pain. But I'm not a quitter. The supportive cheers really helped keep me motivated to move forward.
As I was running these final loops, some familiar faces kept popping up along the back end of the route. In my fogginess, I was always unsure if it was really them joining me for a quick walk or 1/4 mile jog. But it was. These small conversations and joint efforts really carried me through.
My quads and my adductors were hurting. I was starting to have trouble lifting my legs. The brief periods of walking seemed to loosen things up and help me pick up those feet again. I didn't feel any chaffing, but did find the common blisters on the insides of my feet were awful. Luckily I had blister bandages on and didn't feel much, other than a little twinge.
The whole morning I never felt like I got in my "groove" like I do inside of my head with the rhythm of my long runs. This was different. My stomach wasn't too happy and I kept burping. I drank ... a lot during the morning. I usually have five energy gels during a marathon. That morning I only had two. I just couldn't stomach them. Instead I snacked on fritos and mandarin oranges. These little nibbles seemed to work.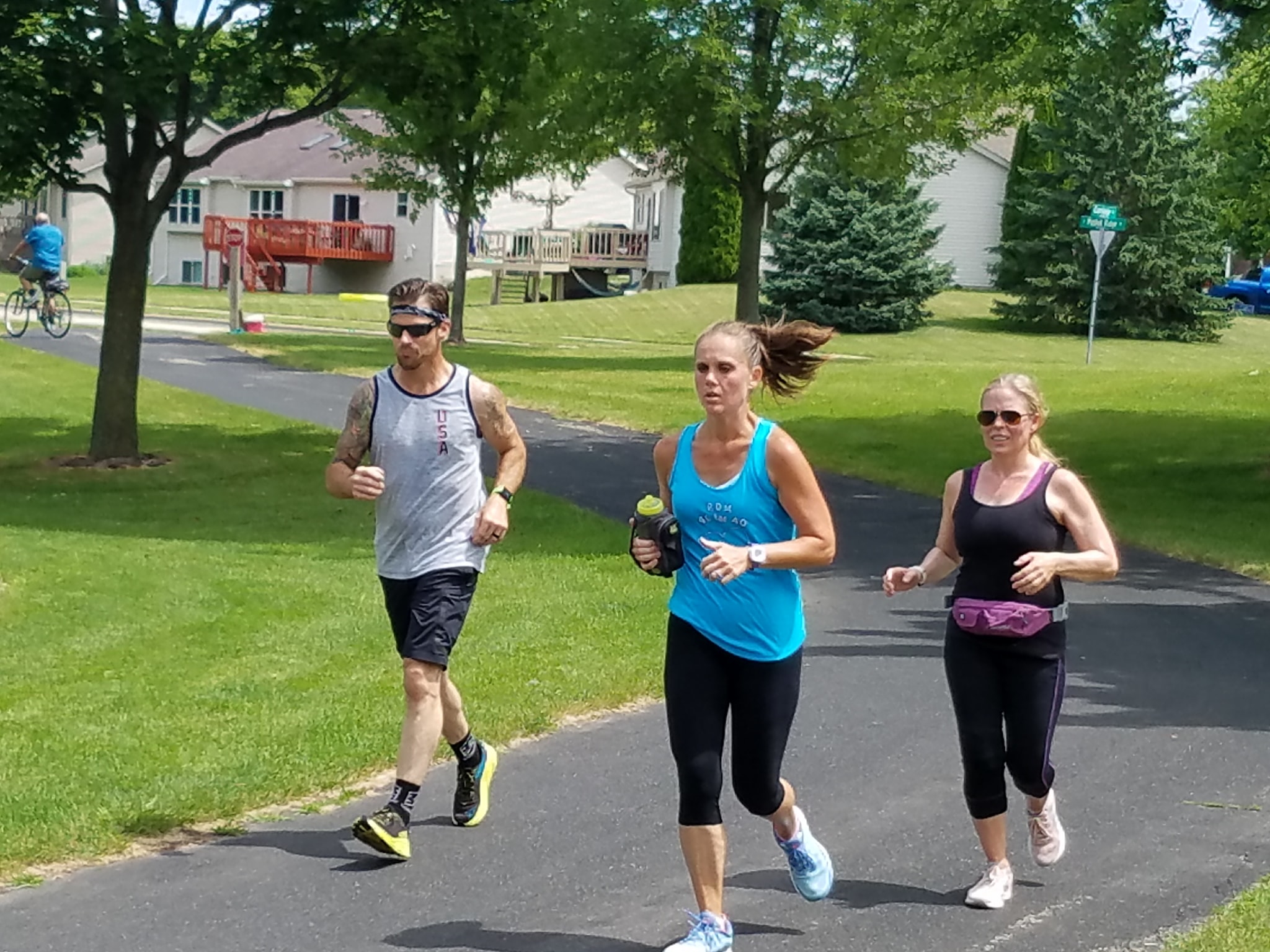 Finally, we were ready for the final mile. I changed into the custom tank top that my husband had made for me, and we were off around the pond for my final loop. I had to walk a little bit during that final mile again, but the motivation of the finish made me run more than I had the previous seven. I was ready to feel the sense of accomplishment of doing this.
My watched spit out the second 20 mile split and I finished, as clients, friends and family approached the grass and cheered me on to the finish. And just like that, I was done. My kids and my husband gave me big, emotional hugs. My littlest gave me a custom medal (again, thanks to my thoughtful husband) and then I hugged my parents and sister. The crowd gathered. I wasn't prepared for so many people there and didn't have remarks planned. But I just spoke from the heart and lived in the moment. I cried. I laughed. I collected my breath. It was such an amazing feeling to have accomplished this. But it felt even more awesome to have all of these people surrounding me. I felt accomplished and loved. It doesn't get much better than that.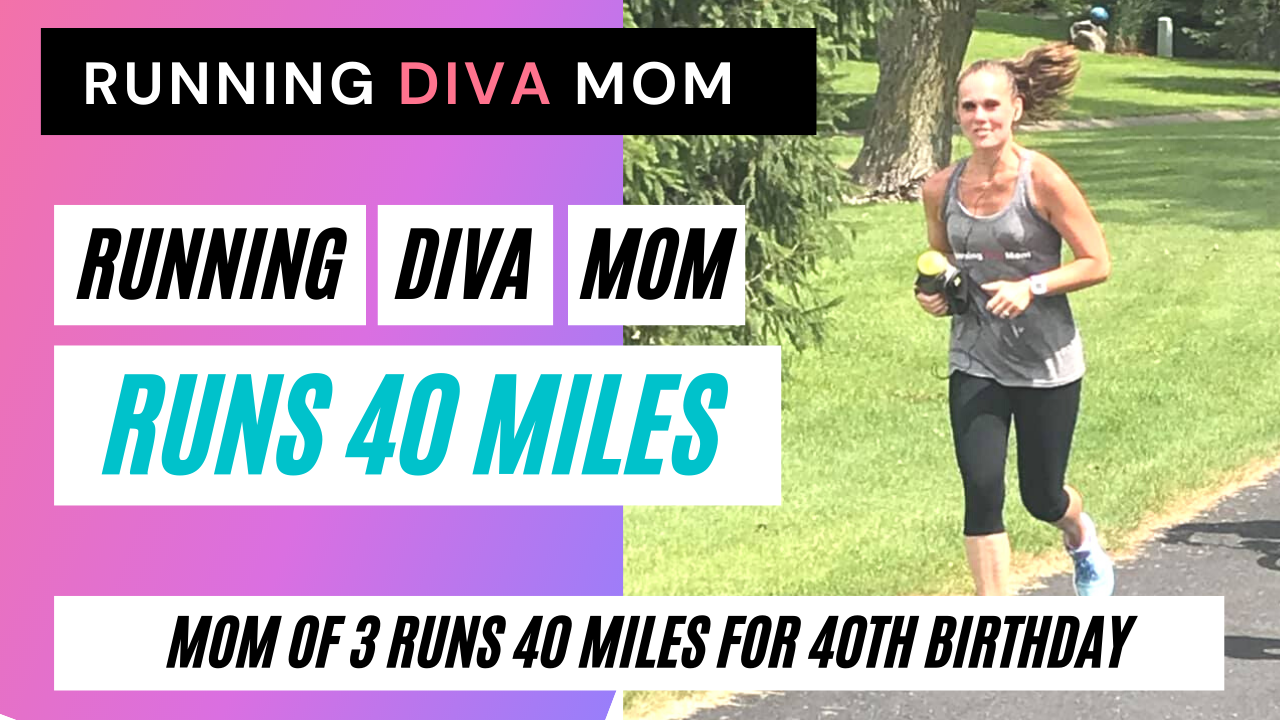 I will continue to be thankful for this sport and lifestyle and all that it has given me - health, strength, endurace, passion, leadership skills, friendships, social outlets, goals.
I finished the second loop in about 3:37. The entire event took just under seven hours, plus that brief break to change and eat at mile 20. I am happy with that. 40 feels great and I feel accomplished. I love running long and pushing myself. But I still am in love with the half marathon distance and will continue to push myself and my limits with the marathon distance.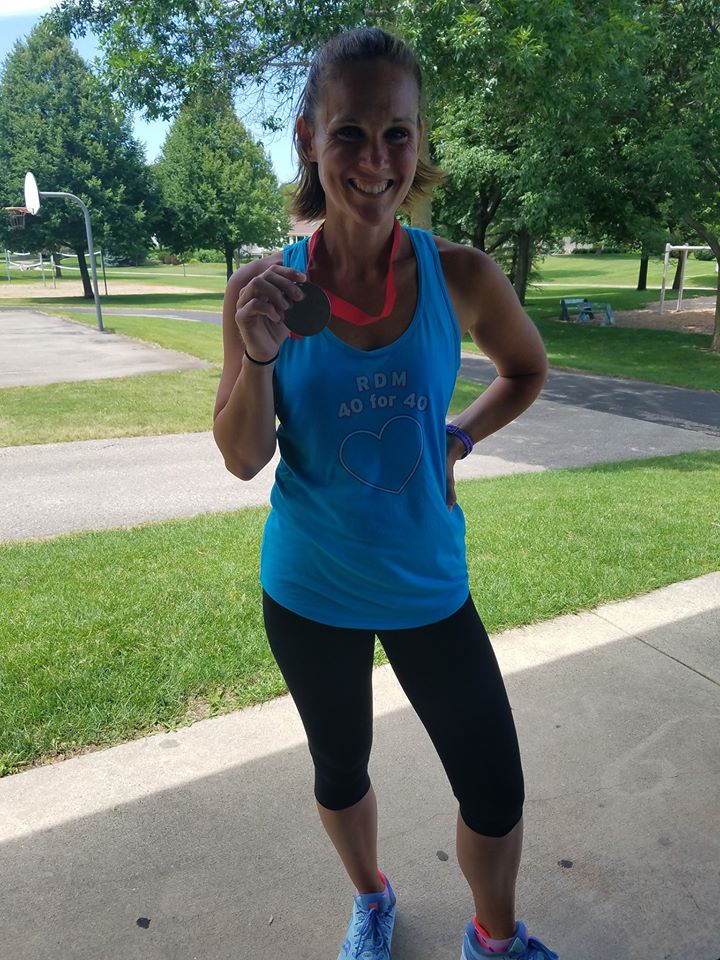 I ran forty miles. Yes. But all of my friends, family and clients collectively raised $1,555 for our local Girls on the Run chapter. This will support an entire team of local girls for their upcoming season. And for that support I am really grateful.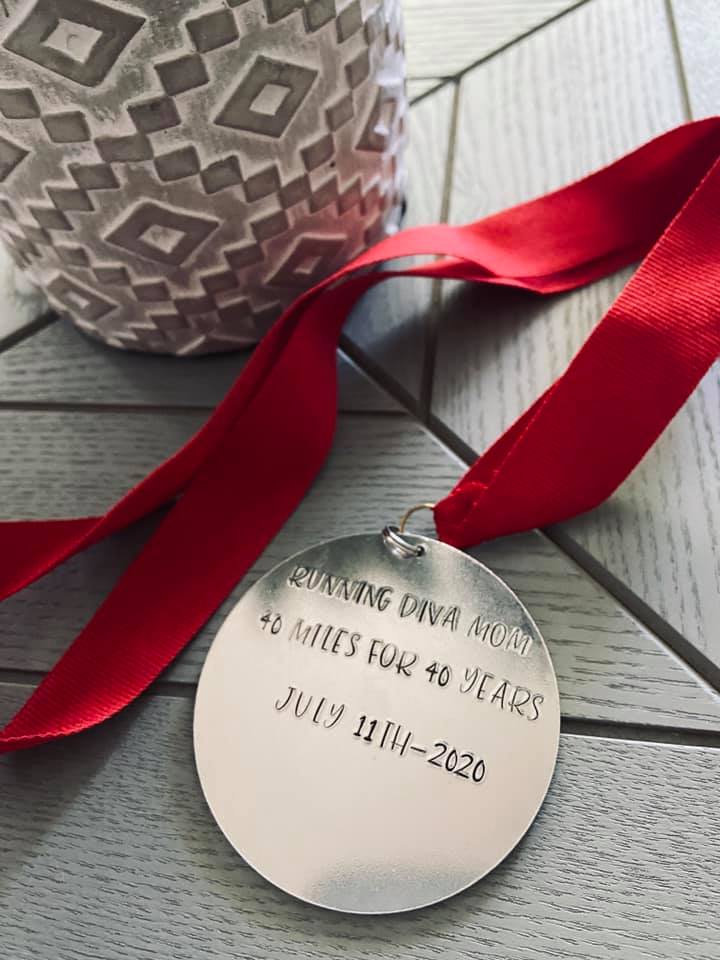 We ordered my favorite pizza when we got home, but I could only down one slice. I tried to nap, but couldn't do that either. I am never good at napping anyway. I stiffened up and became more tired. After a two mile walk around the neighborhood, I reheated my food and downed it and more. I went on another two mile walk and then had a big bowl of ice cream for dinner. I felt fine the next day on my birthday and mustered two slow miles with the jogging stroller. But days two and three were pretty painful - mostly the quads, foot blisters and my calves.
I am enjoying a couple days of rest (or whatever "rest" means for me!) and look forward to setting some new personal goals for myself this year.