This season we were looking for something a little different for our fall event. We had done a lot of exploring, hiking and saw a lot of new nature trails, state parks, bike trails, waterfalls and nature centers this summer. So the Rails to Trails Marathon on the Elroy-Sparta Bike Trail seemed like a natural way to end our 2019 season. I had biked the Sparta segment of the trail with my kids last year, so I knew that the setting would be gorgeous, a nice escape - and there would be a 3/4 mile tunnel that we would navigate through - twice. The entire race was on a crushed gravel path. The event was cancelled last year, due to the intense rain we received in the midwest and much of the trail was washed-out. We hoped that conditions would be better this year. After race expenses, all of the race profits would be going back to the local community - including maintenance of the city and flower baskets for the downtown area. I was glad we were participating.
We made the trip from Madison on Saturday, late morning. We stopped in Wisconsin Dells for lunch at the groovy Grateful Shed Truckyard, for an indoor food cart dining experience. We followed that with some stress-free shopping at the Wisconsin Dells Outlet Mall. It was pouring on our drive up to Tomah, where we had a hotel reservation at a hotel right off of the main exit. After we checked-in, we drove to packet pick up in Norwalk. We navigated through downtown Tomah and through long, windy country roads for twenty minutes to the Norwalk community center. Packet pick up was easy peasy, as we were some of the only runners picking up our bibs. We received a long-sleeve technical tee, featuring the infamous black squirrel and our race bib and then chatted about the course with one of the directors. Local volunteers were also cooking up a spaghetti dinner and desserts, which was free to participants. However, we opted to go out to dinner, since we had a kid-free evening.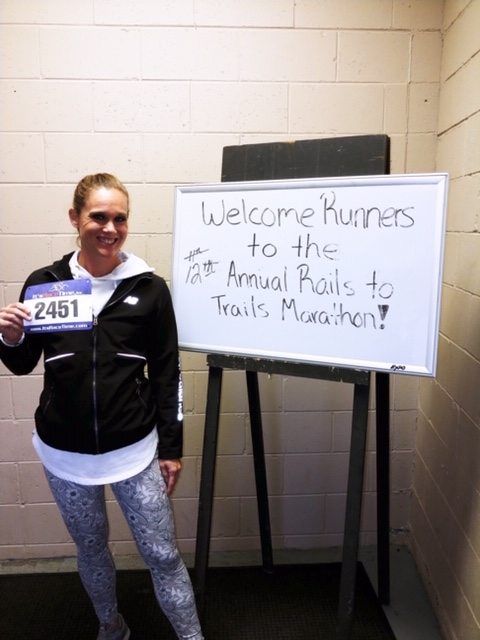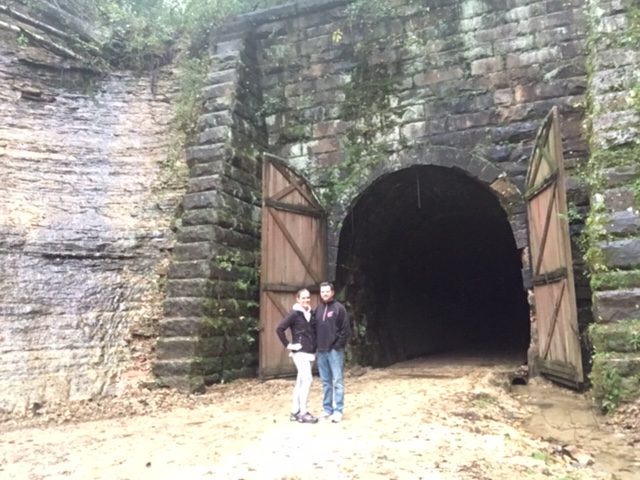 After we left the race expo, we drove to a small lot near the Sparta entrance of the tunnel. I wanted my husband to see what we were going to be running through the next morning. We brought a flashlight and walked in the rain. We walked all the way through the tunnel and back for a nice half hour stroll in the dark. There wasn't another soul in the tunnel on dreary afternoon. We then drove in the cold rain back to downtown Tomah and enjoyed a delicious salad bar and shared a pizza at the new Murray's on Main. We then headed back to the hotel to lay out our race clothes and get some sleep. We both fell asleep by 8:30 pm.
We woke up for the race early. I was actually up ahead of time, because this was sleeping in for me. We got dressed and headed down to the hotel lobby, since continental breakfast was starting at 6am. We were greeted by a few other runners who we got chatting with. They were also from the Madison area. Two of them were running their first marathon and the other was running her second.  I enjoyed some yogurt, a banana, a cup of coffee and an english muffin with gobs of peanut butter.  After we checked-out of the hotel, we headed back to Norwalk.
We had heard that participation in the marathon was small. This was going to be something totally different - with only about fifty runners registered for the full. There would also be a half marathon and 5K event starting later that morning. We were able to park right at the trailhead in the parking lot near the start. We used the port-o-potty quickly, fueled up with energy gels and headed towards the startline where a few runners were assembling. Funny enough, there wouldn't be too many more of us there when the race started. It was a beautiful fall morning, low around 40 and sun, with an expected high of 60 degrees later that day. A perfect day for a marathon. We huddled around a small fire pit and then I headed back to a small row of port-o-potties - once, twice, then three times before the National Anthem was sung. I dropped my long-sleeve race shirt on a bench near the start, which I would easily find after the race.
We would be looping out for a short 5K on the route, while the rest of the race would be an out and back in the other direction. We assembled at the startline - only about fifty of us. And we were off.
We headed out on a muddy path, over a pretty bridge with running water and through a small tunnel that was full of standing water. My feet got wet and I hopped, skipped and jumped through. My feet must not have stayed wet for long, because I don't remember them wet much long after that. It was still a sloppy mess. This was where most of our elevation change was on the course - still not that much. At about 1.5 miles, we turned around and on the way back, I saw my husband and the runners from breakfast. We crossed the start/finish again at the 5K point and headed toward the tunnel. Hubby caught up to me, stuck with me and then took off ahead of me around mile 5 or so.
At mile 6 we approached the awesome tunnel. We weren't allowed to bring headlamps or flashlights. The tunnel was lit with 175 lanterns on the ground, alternating from left to right. It was really pretty. I found that as we got in the middle of the tunnel that they could have used more that were at entrance. But I was still able to run -- I thought we may need to walk through the darkness. I passed a couple of people in the tunnel and saw hubby running out of the opposite entrance while I was still in it. Once I exited I didn't see him at all for a really long time. We headed back on the path that I was familiar with from my bike ride with the kids during the previous summer. It was really helpful.
We had looked at the elevation chart a couple of times and it looked really hilly. But the only hills we experienced were during that initial 5K.  The rest of the course appeared to be flat, but there were long, gradual inclines that you didn't necessarily realize. The route was beautiful, scenic and well-supported. There were aid/water stations every 1.5 miles or so. I carried my handheld water and only refilled it half-way once. I grabbed sports drink at every aid station. I consumed gels at miles 5, 10, 15 and 20. I carried one less gel with me this time. I chewed on gum in between gels too, to keep my mouth from drying out. As we approached mile 15, I saw my husband running towards me. I thought we were turning around at 16, so I was trying to recalculate distances that didn't add up. But I had faith in the course. Hubby and I commented in passing at how surprisingly flat the course was.
We were following a typical pattern that we've experienced when we race together. He passes me within the first hour, takes off, and then ends up way ahead of me. I then pass him again between mile 18-22.
As we headed back toward the startline in Norwalk, we were starting to run past the half marathon walkers. Many of them were stopping to take pictures. Two girls were taking a picture of snake that I otherwise most likely wouldn't have noticed. At mile 20, I figured that I only had about an hour or so left. I could see my husband off in the distance. I approached him and asked if he was okay. He said he lost gas and was slowing down, but would be fine. I kept on ahead and at mile 22 we would pass through the tunnel again. My depth perception was off this time. I don't know if it was because my body was exhausted or if it was because the sunrise had changed the angle of the sun. Nonetheless, it took me awhile to get my bearings.
For the last hour, I was breathing loudly, counting in my head and focusing on my breathing pattern. I knew that I was going to be nowhere near my PR. But I was still pushing towards a sub four hour marathon. I knew I still had a chance for that. So I got my breathing in a rhythm, replied a few songs with a good beat over-and-over. And just pushed through it. I was passing a lot more half marathon walkers now, and a couple of marathon runners that I had seen off and on throughout the previous miles. I kicked up my pace the last couple of miles - and saw the finish line.
My watch read 3:59:58 - finish time ended up being 3:59:56.  Phew!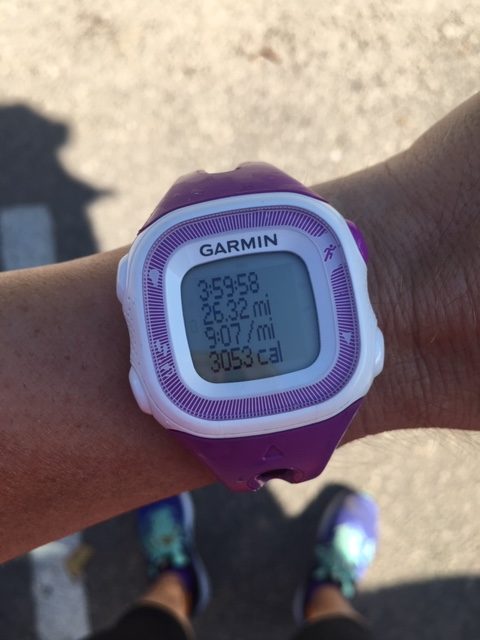 With this small race, it was the first time I've checked race stats in -- forever. I ended up winning my age group and grabbed an award. My husband was able to snag second place in his age group. We were satisfied with this race and would do it again in a heartbeat.
We were tired, but not very sore later in the day - or the days that follow. This was the best that I've personally felt after a marathon.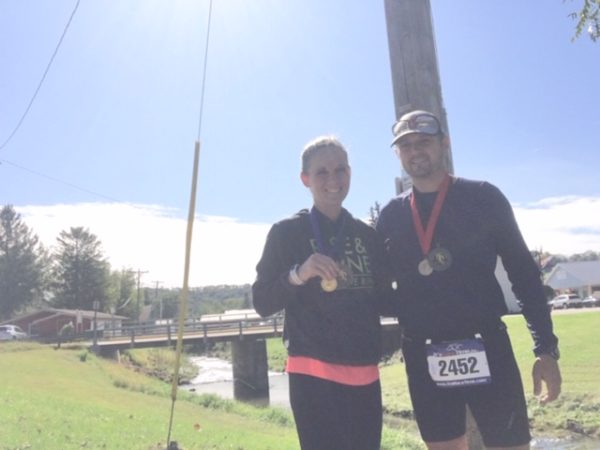 We then made the short drive to Sparta (much of what we had just ran!). We shared a meal a Culver's and drover for our overnight accommodations at Justin Trails Resort in Sparta.  I had stayed at the resort with my children the year prior on a road trip, when we stopped in Sparta to enjoy the bike trail and tunnel. Last time we stayed in the garden suite. This time we enjoyed the private little house on the prairie cabin. We hiked and walked on the disc golf course and hiking trails for much of the beautiful fall afternoon after our showers and a change of clothes. We then enjoyed a relaxing dinner at a local establishment, just a couple of miles away, The Cotter Pin. We enjoyed a documentary on the Driftless area (loaned to us from the lobby) and I fell asleep early, restless legs and all. We spent the next morning having a fresh farm breakfast in the lobby, driving the countryside and hiking steep trails at Wildcat Mountain State Park before life got crazy (and normal) again after school pick up at home.