A month ago my husband and I enjoyed our first kid-free vacation in years and celebrated with a victory lap at the Mesa-PHX Marathon. Getting out of Wisconsin in February sounded like a fantastic idea - why not?! Other than a long run during the first part of winter, all of my training was done on the treadmill at the gym. I was a little worried about the heat in Arizona ... but that wasn't going to be a problem.
After flying into the airport in Phoenix, we stayed with friends in Scottsdale for several days leading up to the race. The location was great - as we were able to do lots of sight-seeing leading up to the event. We drove four hours north to the Grand Canyon (well worth the drive!) and hit Flagstaff for lunch and sightseeing and dinner in Sedona in the evening. We also were able to meet up with family in Chandler, hike in Mesa and drive the first half of the race course in Mesa.  It was a fantastic trip! The weather was unseasonably cool, but still much better than the hard winter we were having in Wisconsin. In fact, we even had flights cancelled on our trip out, due to ice and snow. So we had to fly out of a different airport and on a separate airline. We were determined to make this trip happen! It was unseasonable cool during our trip. The day we went to the Grand Canyon, it was in the upper 20's and had been 8 degrees just a few hours earlier. They had received a lot of snow (8-10 inches, we heard) that week as well. At least I had packed a jacket!
We picked up our packets at Mesa Riverview on Friday. I was enjoying the sunshine in my tank top, while locals were wearing several layers and complaining of the cold. There was a little shopping at the outdoor packet pick-up, but we didn't purchase anything. Guys got a technical top and girls got a technical tank, which was nice. We love Rosati's Pizza at home, but had never been to a sit-down version of the restaurant, so we shared pizza and a calzone for lunch and then went hiking in a few spots in Mesa, among the cacti. We finished up the afternoon by driving more than half of the course (which was really helpful the next day) and had delicious pizza at Crust with extended family in Chandler (another cute downtown area).
We got up around 4 am for the race and got ready quickly. This is my typical wake-up time these days, so it wasn't too much of a shock to our system. We left the house around 4:30 to make the short drive in our rental car.  We were stuck on the highway forever and couldn't get to the shuttle buses - even though we could see them. It's amazing that you can be up so early, yet already be late for something. There was a cut-off for the shuttle buses and we were starting to panic. The race was a point-to-point event (something we've done many times) -- but this seemed like the most compact and disorganized situation we've had like this. Plus, we had to use the bathroom. People were dropping runners off along the highway and they were walking down the street to the buses. This also looked dangerous. After a long wait, we finally decided to switch lanes and drive the opposite direction and parked in a fast-food parking lot and ran down the street. There were a couple dozen buses lined up single file and they were only filling the front bus. As we walked past the line, it was hundreds of people long in a single file. There were no portable restrooms and everyone was getting anxious and had to use the bathroom (including ourselves). I saw several going in the parking lot and behind vehicles. We finally made it to a bus and made the drive out into the desert in the dark. Everyone on the bus had anxiety and was complaining. Several of us had to use the bathroom and were uncomfortable.
The portable restroom line was extremely long and I always seem to get in the wrong line. There were some girls from Madison in front of me. Several people were dressed in several layers and garbage bags, due to the cool morning. But I was standing around in this really long line in my tank top. Yup, and I still had to pee. Hubby and I decided to part ways and see each other at the finish line. We figures we weren't going to run together anyway. When the fireworks went off in the desert at 6:30 to queue the start. I was still in the line a half hour after we got dropped off. So disappointing. People were starting to panic. It didn't matter, since the race is chip timed. But still disappointing not to start with everyone else. I finally was able to use the bathroom. I walked through the warming areas that were there for runners -- who were now gone off in the distance. I walked toward the music at the start line and just took my time. I got my ipod together and saw the desert sun slowly rising over to my left. I realized that with all of the chaos, that I never had time to properly warm-up -- something that really helps with my ankle issue for the past year. I was really deflated by the experience that morning, but decided to leave it behind me in the desert and just move forward.
It was nice that we drove the course the day before, I really knew what to expect for the first 14 miles or so. Since I started way after everyone else, I was able to pass runners for most of the race. I was trying to keep pace with my watch and wanted to target around 8:45 min/mile. It was hard running with people that aren't my pace -- I had trouble gauging my performance. The course was going to be pretty flat, except for around mile five or so when there was a long (mile long) gradual incline through a nice, residential neighborhood.
That long incline took more of a toll on me than I expected, but then we had a long decent into town. By the half marathon point, my knees were starting to get painful and my quads were on fire. I have never had issues with my knees or my quads during a race -- it's always my hips and my ankles that I worry about. During one vary drastic decent there were dozens and dozens of signs as you ran down the hill. This was a nice distraction. The half marathon point was marked with the half marathon race arch and start. There was a terrible smell of sewage near this area that made my stomach turn for the next mile.
The most scenic part of the course was the first hour. The majority was on local streets and running through residential neighborhoods. It seemed like we turned every couple of miles, which really broke up the course.
I stuck with my nutrition plan. I had a half packet of energy chews on the bus. I carried my handheld water bottle, which I filled two times (without stopping) at two aid stations. I took a water at almost every aid station and took sports drink at almost every aid station. I took gels at miles five, ten, fifteen and twenty. I didn't use my spare gel. I chewed a half pack of gum in between the gels that I sipped on for the duration of a mile. That plan has always worked very well for me, and didn't fail me this time either.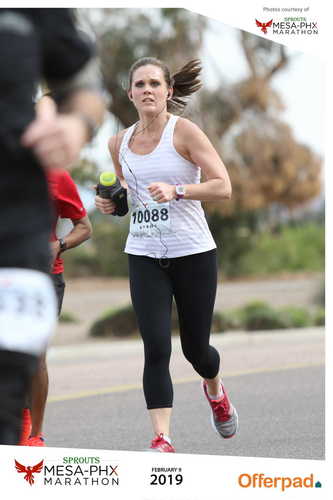 I passed several pace groups and couldn't tell if I was "on pace" for myself or going too fast. At mile 22 I finally saw my husband out of the corner of my eye. I hollered to him and asked how he was doing. We both remarked at how the gradual downhill was making our legs lock up.  But we were both still running and had "only" four miles to go. I asked him if he wanted me to run with him or if I should keep going. He motioned me on and I kept the momentum. It was one of those "if I stop, I won't start again" situations. The last couple of miles were a bit of a blur, as I was really focusing on breathing and going to my deep place mentally and keeping my legs moving. The course seemed a little more dingy, boring and industrial. But I don't remember much of it. I saw my first race photographer at that point, but didn't muster a smile. I thought I was still on pace for a personal record, I kept trying to calculate numbers (runner brain?!) and tried to just keep trudging forward. I replayed Ellie Goulding's "Anything Could Happen" three times during the last mile. It propelled my motion.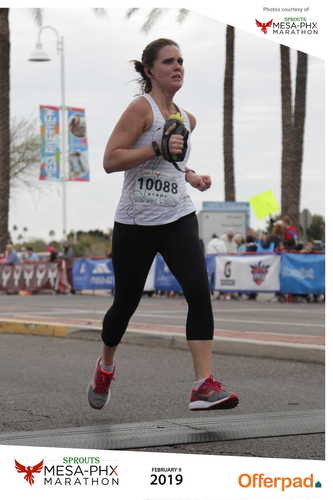 As I heard and approached the finish line -- I saw the clock. It said "3:50:XX". My personal record was 3:52 and some change. I was going for it. I cranked my ipod gave every loud, difficult breath I had. Bent my knees and my ankles. Picked up my legs at my sore hips. It was ugly -- but I pushed through the finish. I panted as they handed me my finisher's medal and a water and I stopped my Garmin -- 3:51:10.
I couldn't believe it. This was the fourth PR in a row for me. I didn't race much at all last year -- twice. I found joy in training for myself and just falling back in love with running along with myself and my thoughts -- through "quality running". And this process has really been refreshing and my spirit has carried me through four personal records in the half marathon and full marathon. I can't believe it. Quality is really so much more effective (physically and spiritually) than "junk" quantity miles.
I never got warm during the race, as the temperatures were in the 40's. The sun was out briefly, but went away soon after I finished, causing my body to cool way down too quickly. I had debated on what to wear for several days leading up to the race and am happy I stuck with my tank top.
I waited a bit and saw my husband cross the finish line. We got a finisher's photo together and hobbled around the finisher's area together. We found our bags and warmed up in our sweatshirts and re-hydrated and stretched on a curb. They gave out amazing cinnamon rolls which we nibbled on a bit. They were also giving out tons of other goodies, including popsicles, but we were too cool at this point for that.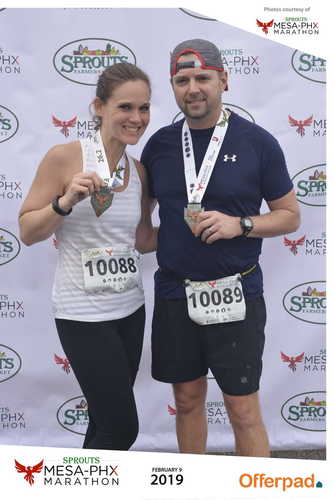 I will say, this was a fast course. I just wasn't prepared for the downhill and the effect it would have on my body. It took me almost a week before I could squat comfortably in front personal training clients at my studio or sit down comfortably. I could barely muster out a mile a week later in the gym. But now a month out from the race, I am so happy with the outcome. And I took home a shiny new PR in my suitcase. It was nice to get away -- and get away with my husband. It was good for us. I look forward to going back to visit Arizona. There are so many great sites and the landscape is so variable and scenic. I want to do more training runs and hiking next time. This trip was jam-packed. I just hope the weather is a little warmer next time!
Marathon #15
3:51:09
8:50 min/mile
10K: 53:08 (8:34 min/mile)
half marathon: 1:51:50 (8:33 min/mile)
mile 20: 2:53:47 (8:42 min/mile)
921/2,215 overall
84/201 age group
324/1001 women