This was my fourth time running the Lakefront Marathon in Milwaukee. I had also spectated the race twice. So, I have become really familiar with how well-organized this event is and how great the course is. The race shuttles drop you of in Grafton (north of Milwaukee) and participants run south towards downtown Milwaukee. This would be my fifteenth marathon. I still can't quite wrap my head around that.  Fifteen!
After a morning of coaching and kid activities, we dropped off our littlest and headed towards Milwaukee. I always coach the morning before a race, so instead of running 6-10 miles ... the new me decided to walk during class. We always stop in Pewaukee at Thunder Bay Grill for a salad bar lunch and then walked around Milwaukee for the afternoon.  We picked up our packets and grabbed coffee at Collectivo and then walked around the lakeshore hand-in-hand, before checking into our hotel. We decided to save some money and didn't use the host hotel. We stayed at the Milwaukee Athletic Club (outdated, but decent and affordable). We were within walking distance to the race shuttles, so it was good.
For dinner we walked to Rock Bottom Brewery and checked-in for our reservation. I enjoyed an amazing pasta dish, which I splurged on.
The weather had been so iffy, so we weren't quite sure what the morning would bring. We watched the forecast for the week leading up to the race and it changed over and over again. We watched some of the Badger football game after we laid our running gear. We turned the game off at half time and I quickly drifted off to sleep after reading a couple pages from my book.
In the morning we woke up at 4:15 - which was no issue for me, since that's the time I always wake up right now  I'm loving my early morning routine. We got dressed, I did my makeup and we ate our breakfast [for me: english muffin (brought the toaster!), tons of peanut butter, banana, greek yogurt and one cup of coffee]. We gathered our belongings and checked-out of the hotel by 5:30. It was less than a five minute drive to the Italian Community Center. This was one of the shuttle stops (along with two host hotels). The streets were lined with buses and the parking lot was already quite packed. It was starting to rain. We quickly gathered our belongings in the dark and ran towards the first bus we saw. We were off to Grafton ...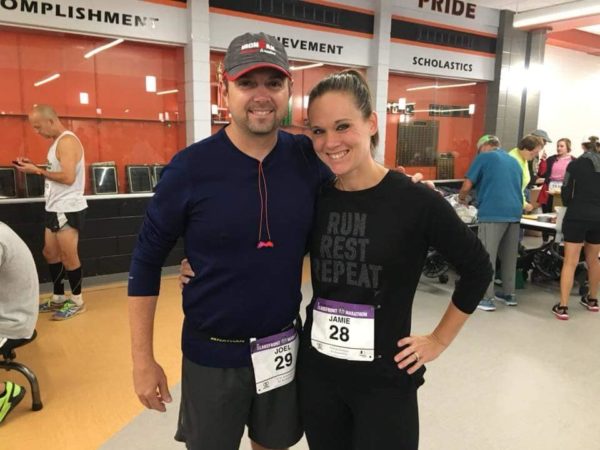 We stood around inside of Grafton High School for about 45 mins. It was dark outside and drizzling. The clouds were getting darker as we approached race time. I used the port-o-potties outside three or four times and ate a sleeve of Clif Shot Blocks. Always fun to use the bathroom, and then get right back in line. I wasn't sure how to dress, but opted for capris and a light long-sleeve top that rolled up easily.
Soon, we headed to the start line. It was dry, but the skies were dark. I placed myself ahead of the four hour pace group, which was crowded.
We headed off into the countryside. My first miles were clicking by quickly - around 8:10-8:15. My goal pace was 8:50-8:55 for the race. I was really killing it. I finished just under 3:54 last year - which was a huge PR for me. But two weeks later, I attempted another marathon. My bone spur and my ankle injury (later diagnosed as tendinitis) were to debilitating and was forced to stop at mile three and walk back to my hotel in tears. My ankle had been bothering me a bit during the month leading up to this year's race. But I was really becoming smarter about how I was handling it. I had also incorporated strength and cross training - and some rest (yup, rest!) this year. So, I was feeling really good about this race.
I got warm quickly, and got envious of those in short sleeves or tank tops. I rolled up my sleeves. But I quickly got comfortable in what I was wearing. And later my body started cooling down. The many phases of 26 miles.
I was running with the 3:40 pace group. I was hoping to finish just under 3:55. What the heck was I doing? I was either going to rock this - or I was going to die.
I saw a few familiar (and some unexpected) faces along the course. It was welcome, because normally I would have my husband or family every 5-8 miles. But, not this time. The crowd support for this event is really amazing, however. Even in cold or wet conditions there area always many family members, cheering sections and neighborhoods out with signs, cowbells and homemade water stations.
By mile six I was already having pain in my lower back and in my groin area. These are things that don't usually happen to me until after mile twenty. I slowed down a little, but was still trucking along way faster than expected. By mile ten, the pain was real. It's okay, I just have sixteen miles to go. Gulp.
I was literally in "the zone". I listened to my music, but it never really got me into an "emotional groove" this time. Skip. Skip. Skip. Imagine Dragons "Natural". Replay. Replay. Replay. Skip. Skip. Skip. Stuck to my nutrition plan. Stuck to my hydration plan at water stations. Popped in gum every two miles. Eat, hydrate, chew, breathe, move, repeat.
Most of my early race photos from years ago are filled with my fists pumping over my head or waving to my friends and family. I have a huge smile on my face.  Not this time. I was still my place, eyes forward, focusing on my breathing, listening to my music and my footwork. Just one foot in front of the other towards the finish line. I had gone out at an extremely fast pace for myself - even if it was just a 10K jaunt around town. But I had 26 miles to cover here.
My legs felt fresh and I felt strong and had tons of energy. My nutrition plan was working. I kept concentrating on picking up my feet, bending my ankles occasionally, shaking out my hands when my arms and back felt tired or sore. I had this in the bag.
During the last two miles, we were finally at the lake shore and I knew that the finish line was close as we headed downhill towards downhill Milwaukee. I knew that I was coming home with a a PR. But that gap that I had made early on was shortening and I was getting closer to my 3:53:59 PR from last year.  Skip. Skip. Skip ... then I cranked Britneys Spears' "Work B**ch" several times. Hey girl ... I'm listening.
As the finish line approached, it became muddy and wet. The crowds were loud. I didn't try picking up my speed or mustering a smile. I was just content with getting there and killing it for myself today.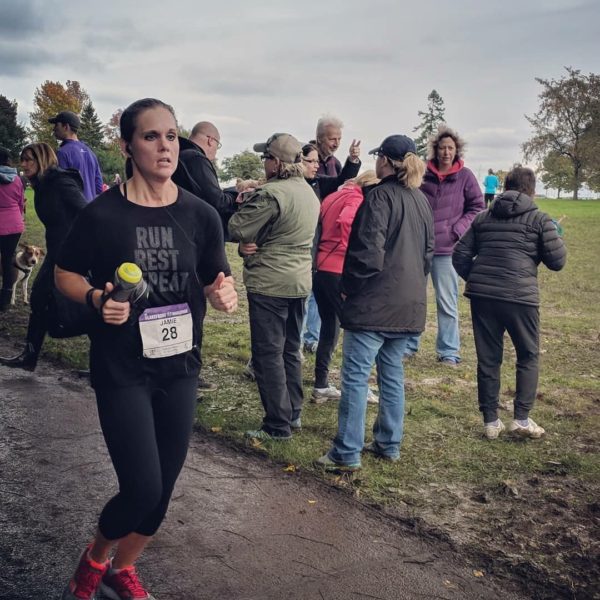 And, I came home with a new PR
3:52:17
Last year, my pace was pretty consistent, around 8:55. This year, I was all over the board. I almost PR'd in the half marathon. Geesh. I guess I had to realize stupidly, that I still had another thirteen miles to go at that point.
1- 8:05
2 - 8:15
3 - 8:25
4 - 8:23
5 - 8:15
6 - 8:18
7 - 8:31
8 - 8:15
9 - 8:36
10 - 8:33
11 - 8:51
12 - 8:29
13 - 8:39
14 - 8:33
15 - 8:44
16 - 8:52
17 - 8:54
18 - 9:12
19 - 9:06
20 - 9:04
21 - 9:33
22 - 9:49
23 - 9:38
24 - 9:25
25 - 9:25
26 - 9:25
When I was done, I walked over to get my gear check back. I was having trouble. Was a little light headed, my hips tightened up and I grabbed the fence. Two volunteers came over to check on me. One walked all the way across the field and saw my race number and then brought my gear to me. I didn't take a finisher's photo. I grabbed some post-race food that I didn't eat and I headed through the muddy fields (you have no idea!) to watch my client and my husband finish their own race.