We inherited this adorable over-stuffed chair from a friend. It was a perfect addition to our new playroom. Since the Big Brooke is now a teenager, this chair had a little cleaning up before it could be used by Little Brooke. I simply unzipped the slip cover and threw it in our washing machine with our normal laundry detergent, after applying Biz Liquid Stain and Odor Eliminator on the stained areas. I let the slipcover sit for five minutes before starting my load of laundry. Five minutes, just because I'm impatient! Biz recommends letting your items sit for five to ten minutes. After going through the normal wash cycle, the slip cover came out like new and Little Brooke has been able to enjoy her new-to-her chair for watching cartoons and reading books.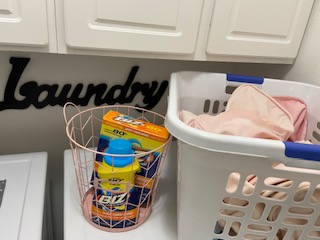 Are you switching the kids' wardrobes around for spring and summer? If you have hand-me-down clothes to freshen up, simply use the Biz Powder or Biz Liquid to freshen up a couple of loads of spring and summer clothing for your little ones. If you are into garage sales or thift shopping for your kids, the Biz products are perfect for cleaning up that second-hand clothing, too. Eliminate second-hand stains and odors with one quick load. Simply pretreat and wash with your favorite detergent. With the powder, simply pre-soak by dissolving a half cup of the powder in a gallon of warm water. Soak the clothing for 1-4 hours, depending on the level of saturation. Biz products contain a unique blend of enzymes that quickly dissolves stains and odors on clothing, cloth and various fabrics. You won't have to to wash things more than once to see and smell a difference.
There is a reason that the Liquid version has five stars! Because, this stuff works. It states that it cleans more than other stain fighters and 80% better than detergent alone. And I believe it. I have thrown out so many stained shirts from food and beverage accidents. The stains just wouldn't come out. But this stuff has worked on everything that I have tried. You can add the Biz liquid detergent to every single load to get rid of new or tough stains. Keep every load clean and fresh. .... No more grass stains from the kids or coffee stains on that new white blouse!
Download a $1.00 off coupon and give Biz Liquid Stain and Odor Eliminator a try in your next load of soiled laundry.
You can also use Biz products in the kitchen, bathrooms and outdoors in the garage or on the deck. If you're doing deep scrubbing of these spaces, cleaning of grout or siding, use this online guide for how to best use the Biz products.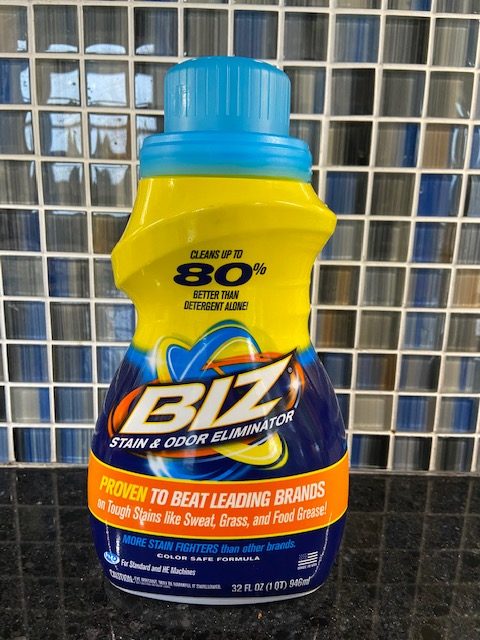 Have a lot of spring cleaning to do? Or winter cleaning to catch up on?! Yeah, me too. Biz products and Kidz 'N' Pets Stain and Odor Remover are perfect for all of your spring cleaning. We have been using the Kids 'N' Pets spray all over the house. Seriously, all...over...the...house. It's been awesome for spot cleaning our carpets during spring cleaning. It's quickly cleared up coffee stains (oops!), kid stains from snacking, and pet stains from our dog spending time outdoors and tracking footprints on our off-white carpet. We also had a little one with a dry nose from the Wisconsin winter and that dry nose often led to a bloody nose. This meant blood droplets all over the house. We have been use the Kids 'N' Pets Spray to thoroughly clean up those blood stains. Sometimes, it took two doses, but it worked quite well.
It also works on marker, grass, wine, urine and poop. Because ... kids and pets. Unfortunately, the enzymes in Kids 'n' Pets Stain and Odor Remover do NOT work on stains that result from artificial colors or dyes.
Why do these products work so well on all of these tough stains and odors?  Because of - Enzymes. The enzymes produced by bacteria break-down waste particles. Bacteria can easily consume these smaller waste particles. The bi-products become food for bacteria and are converted into carbon dioxide and water. Enzymes speed up the chemical reactions and therefore the process. These products help speed up and complete the process. Leaving you with clean clothes, carpets and fabrics.
The enzymes in these products are natural, non-toxic and safe for everyone, including your pets. Use it on furniture, bedding, floors, rugs, dog beds and window coverings. Freshen up your vehicle this spring, too.
Disclaimer: This is a sponsored post. As a social media ambassador I received free products that I chose to review from this brand. I only choose products that will be useful to our household. All opinions, feedback, reviews and images included in this post are my original content. Opinions about our experience is 100% authentic and honest feedback that I hope you will find useful when choosing products and services.