We recently moved into our dream home. And it feels wonderful! There is plenty of space for the five of us, extra room in fact. A nice, spacious yard. The home has had many updates and upgrades. Many external updates have been made that we won't have to think about for decades to come. Phew! A remodeled kitchen, updated fixtures and lighting have all been incorporated throughout the home. Fresh paint has also been done on all three floors. The only downfall that we inherited was the dated and worn ivory carpet throughout the upper level and the main entry area on the primary living space. These are also high traffic areas, including our main stairwell.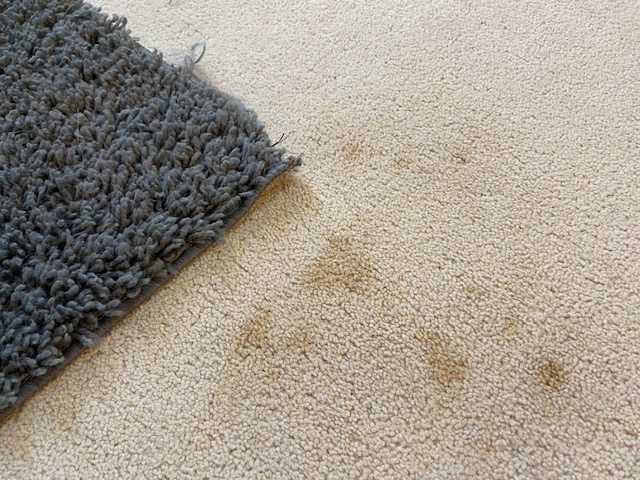 With three busy kids and an active, shedding husky who likes to explore in the yard, it doesn't make much sense for us to replace the soiled carpet right now. We are going to wait until dark beverages and muddy paws no longer wander into the living space.
So, we have been working hard to get rid of the dated stains on the carpet, stairwell and landings. When I received this KIDS'N'PETS Stain and Odor Remover, I instantly knew some of the high traffic spots that I would instantly try it. I got the bottle and started spraying many of these unknown stains. I'm assuming that many are from beverage spills and the such. I myself spilled some coffee on the stairwell during our first week here, during some early-morning walking through the house. Hadn't had my coffee yet, afterall!
I received the spray bottle version of this stain and odor remover, which made application quite easy. This is a professional strength carpet and upholstery cleaner. I first tested in a low traffic area to check for discoloration. I then sprayed each area and let it sit and soak for an hour as suggested for older stains. None of these areas were fresh and didn't have an odor, but they were deep into the fibers of this lightly-colored carpet. And nothing that I tried up to that point had worked too well. For fresh stains, you can simply let the sprayed area sit for 5-10 minutes before letting it dry and blotting. You can also add this to carpet cleaning machines for a more effective cleaning of the whole house.
The heavily soiled areas had to be treated twice and dried before the change was visible. But it really did work much better than anything else I had tried. I know I'll be using this again on a weekly basis, because we already had more fresh stains the very next day ... kids!!
There are just SO many uses for this little spray bottle! And a little seems to go along way. The stain remover claims to remove stains like my morning coffee, but also pet urine, blood, wine and vomit and can also be used as a pretreat or laundry additive for things like perspiration (Hey, runners!). I have started pre-treating some of my athleisurewear from my hard workouts and it's making a difference. We go through several workout outfits a day sometimes and it's hard to keep up on laundry. So, the soiled workout clothes can sit there for a day or two sometimes. Making that perspiration really smelly and it gets buried deep in the fabric. I firmly believe that this is making a difference with my workout clothes and I look forward to continuing to use it.
Otherwise, I only applied the KIDS'N'PETS Stain and Odor Remover to carpet. But, it can also be used on mattresses, brick, tile and household furniture. The product is natural, non-toxic and considered safe.
We recently adopted a hamster. You can use this odor remover to clean out animal cages and litter boxes as well. So, I'm sure that we will be giving that a try. By WE, I of course mean ME. In the spring, I look forward to using this to my own deep-cleaning and detailing of the marathon mommy minivan. It always needs a good cleaning after the Wisconsin winter.
Stay tuned for more great uses for KIDS'N'PETS Stain and Odor Remover products and Stain & Odor Eliminators by Biz. I mean I have this nice, new laundry room and all this open space. I might as well keep it all clean and tidy.
Disclaimer: This is a sponsored post. As a social media ambassador I received free products that I chose to review from this brand. I only choose products that will be useful to our household. All opinions, feedback, reviews and images included in this post are my original content. Opinions about our experience is 100% authentic and honest feedback that I hope you will find useful when choosing products and services.