Have you heard about baby-friendly and child-friendly detergents and household cleaning products from Dapple Baby? You may have seen their products during your last Target run or while browsing the aisles of Walmart or searching for baby products on Amazon. Their products are natural and have plant-based formulas that work on even the toughest (and most disgusting!) baby and toddler messes and spills. The natural products remove the stains and odors that your little one leaves behind on surfaces and clothing. The products are cruelty-free and made in the USA (yeah!).
The Dapple Baby products are also great for little ones (and family members) who have sensitive skins. No dyes and artificial fragrances or additives mean that these products are soft and gentle on even the most sensitive skin.
I was sent the Laundry Detergent to try. It is currently retailing for $9.99 at Target for 34 oz. The package will last for thirty-four standard loads or a whopping 68 HE loads). Wow.
We no longer have infants in the house. But this formula is also great for toddlers and young children. Our five year old still makes plenty of messes and has spills and bathroom accidents. The fresh, natural lavender scent is also a nice bonus after each load. It freshens up the load without added chemicals or fragrances. The lavender scent exudes from natural essential oils and smells amazing. It worked well and Dapple Baby states that it removes up to fifty percent more stains than other leading brands on the market.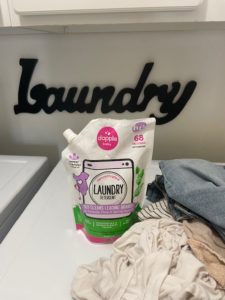 Dapple also offers a convenient stain remover spray, which is also fragrance-free. You can clean bottles, sippy cups, pacifiers, toys, breast pump parts and household dishes for the whole family with the Dapple Baby bottle and dish soap. You may also want to consider doing your spring cleaning and disinfecting with the Dapple cleaning wipes. (Ahem, maybe you have sticky surfaces and little finger prints on your mirrors and windows, like me?!). The wipes would work great for play rooms, craft spaces and daycare centers to clean up all those big messes left behind from those little hands.
You can use Dapple products in the kids' bathroom, too -- with one of the three natural scents of shampoo and body wash that they offer for infants and toddlers. They claim that children will stay moisturized two times longer than other washes and shampoo - wow! As if baby soft skin was fabulous enough?!
All of the Dapple Baby products would be a great addition to your growing household, nursery or baby registry.