I have struggled FOREVER to find a deodorant that will work well for me. I am naturally a sweaty betty. I use to sweat through suit jackets. I have tried all sorts of deodorant sticks, sprays and creams on the market as well as homemade varieties.
There was an all natural deodorant that worked pretty well for me for many years. But that has slowly stopped working too. Not to mention that I have trouble finding it at the store.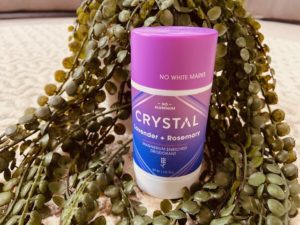 So, when I was given the opportunity to pick out a Crystal Magnesium Deodorant Stick of my choosing -- I jumped at the chance. What a no brainer. I was really excited to see if this would be "the one".  They offer five different scents of magnesium-enriched sticks, as well as a variety of roll-ons and sprays. Of the five intriguing scents of sticks, I choose the Lavender and Rosemary scent. The scent is just as lovely and feminine as it sounds.
Everything (trendy) seems to be about packaging and shape right now. When the stick arrived, I immediately loved the round tube and the diameter of the stick itself. It was so pretty. I'm not one for underarm gels or sprays. This stick applied great. The best part was that it literally was as advertised - no white underarm residue. None. at. all. (!!!) I couldn't believe it. It was not greasy, dried quickly after application and didn't leave that all-too-common residue on my skin or my workout clothes, only to stain them later. I have seriously ruined so many shirts and even suit jackets over the year.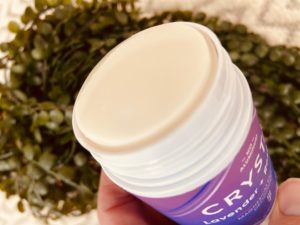 I have been using this deodorant for a solid week now and it's a solid part of my routine. Sometimes I workout up to twelve times a day as a fitness instructor and running coach. And I simply have been applying it over and over throughout the day until I can hop in for a shower at the end of my day on the trails or in the studio. It really has done a great job keeping me fresh and comfortable throughout the long days of working out. I don't feel that embarrassment from raising my arms during an overhead exercise and my clothing isn't stained under the arms either. I also can run errands in between sessions without worrying about my dried sweat and or smell. For the "traditional user", Crystal states that this stick will keep you fresh for a full twenty-four hours. Not me, but I'm still overjoyed with it. *wink*
There's no aluminum or baking soda in these products, that could be irritating or ineffective under your arms. If you have sensitive skin, you may want to give it a try, too. It is hypoallergenic and great for all skin types. They also offer great products for men.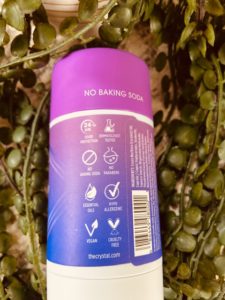 This deodorant is not only effective -- but, it's also 100% vegan and never tested on animals. All of the products from Crystal are free from artificial scents and colors, parabens, sulfates and phthalates. No aluminum or baking soda that could be irritating or ineffective under your arms.
Overall, this magnesium-based, natural deodorant has been working VERY well for me. I'm super happy with it. I've invested the extra money in other brands on the market with magnesium. This one is actually in the top two that I've tried. Once I have used it a little longer this summer, I'm hoping it will permanently become number one.